The Turkey Cup
Sunday 8th October
The end of the summer season of racing is traditionally marked by the Turkey Cup, which took place on the morning of Sunday 8th October. A very light and variable breeze made for a slow drift on the tide to number 5 buoy followed by some frantic kedging to avoid an unscheduled visit to Cowes! For some the call of an early lunch at the Club proved irresistible and the sound of engines being started interrupted the calm. Those made of sterner stuff, however, were rewarded with an ebb tide and westerly breeze.
Line honours went to Fizz, finishing 5 minutes and 52 seconds within the time limit! The 'Allan Spriggs Trophy', and a turkey plate was awarded by Allan Spriggs to Samphire, the winner on handicap, beating Pilgrim by 8 seconds. There was some compensation for Pilgrim however as tradition has it that the second placed boat receives a turkey courtesy of Harwoods the Chandlers. Mimi was in third place and received an engraved glass.
To view the full results, please click here.
Peter Spink
Sailing Secretary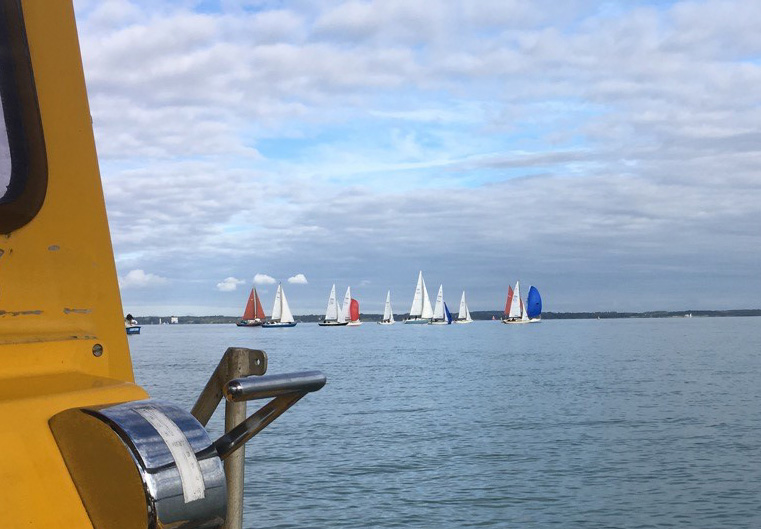 ---
Yarmouth RNLI Fish Supper
Friday 6th October
The clubhouse was bedecked with RNLI flags on Friday for this year's fundraising Fish Supper in aid of the RNLI.
The Royal Solent has a close affinity with the Yarmouth lifeboat station and is very proud to be able to host this annual event, which is open to the local community.
This year's supper was a sell-out event and raised an amazing £2053, with £5 donated by the RSYC from each of the 112 tickets sold and £1493 raised through raffle ticket sales and a game of 'Heads & Tails'.
To read the Yarmouth RNLI press release on this event, please click here.
Claire Hallett
Deputy & Membership Secretary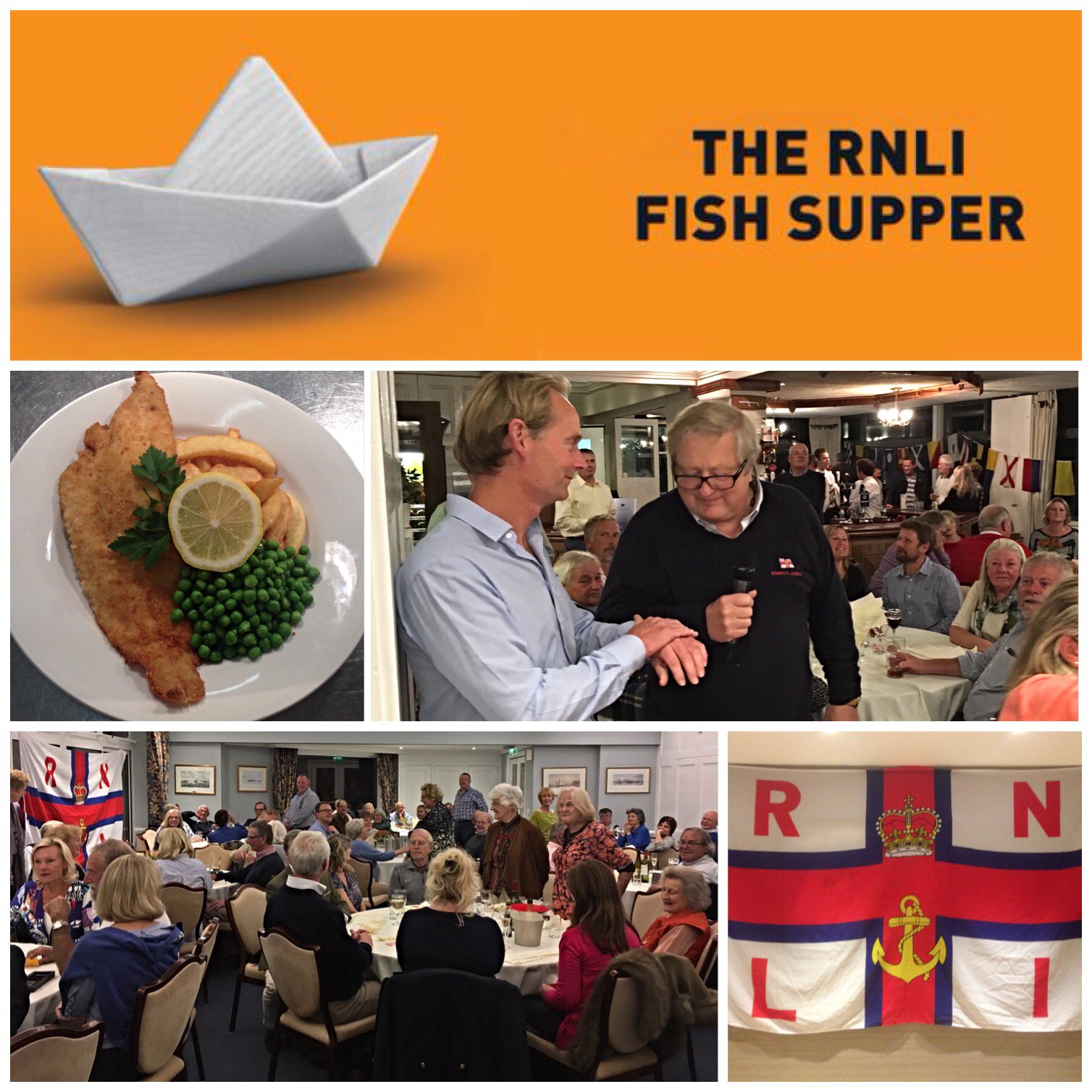 ---
Spence Willard Wednesday Evening Series Prize Giving Supper
Wednesday 27th September
Over 70 Members enjoyed a convivial evening and excellent supper at the Club last night.
Guests of honour were Duncan and Ali Willard, of sponsors Spence Willard, to whom the Club is very grateful for their continued support of the Series.
Rear Commodore Sailing, Nicholas Measor, conducted the proceedings and Ali Willard very kindly presented the large array of trophies, a number of which deserve a special mention.
David Fox and the crew of Bossa Nova and Miles Norris in his Laser had an outstanding series.
Bossa Nova received the 'Hempstead Trophy' as the overall winner of the Folkboat Class and the Wednesday Evening Po for the greatest number of firsts over all classes.
Miles Norris, sailing his Laser, won each of the three series and was the Overall Winner of the Laser Class.
The 'Iseult Centenary Trophy' was awarded to Sarah Turvill of XOD Spray for the most improved performance of the season. Taking over Spray's helm from previous Class Captain, Malcolm Taylor, must have been a little intimidating but her steady progress throughout the series has been a pleasure to watch.
Acorn of York had a mixed series although she did win a number of trophies! She received the 'Ambitron Trophy' for being the overall winner of Class 2 and the 'Did Not Finish Award' for the greatest number of 'DNFs'; an unusual combination perhaps. She was also awarded the 'B&8 Trophy', past awards of which have been made for getting caught on the anchor chain of the committee boat, and for a somewhat infamous incident concerning a race officer and a starting pistol. Acorn's triumph was to enquire of the race officers via VHF radio whether it was 'B' or 'D' that was a mark of the course. The Race Officer's reply was "Bravo" to which Acorn retorted "That may be so, but was it B or D?" Needless to say all of her trophies were received with her customary good grace and humour!
The 'Sailing Office Award' was presented to Barbara Hempstead and Teresa Fox for the support that they have given both on and off the water throughout the year.
A very large thank you was also given to the Wednesday Evening Race Officers, Tony Walton, Mark Hall, Nicholas Measor, Paul Nicholson, Jeremy Willcock, Sue Lindsay, Anne Kyle and Sue Clements.
The Club is very grateful to all who give up their time to Race Officer, drive RIBS, and help in the Sailing Office, without whom racing would not be possible.
Peter Spink
Sailing Secretary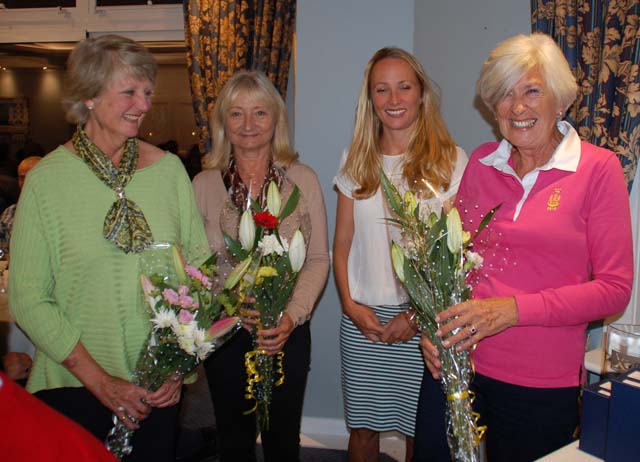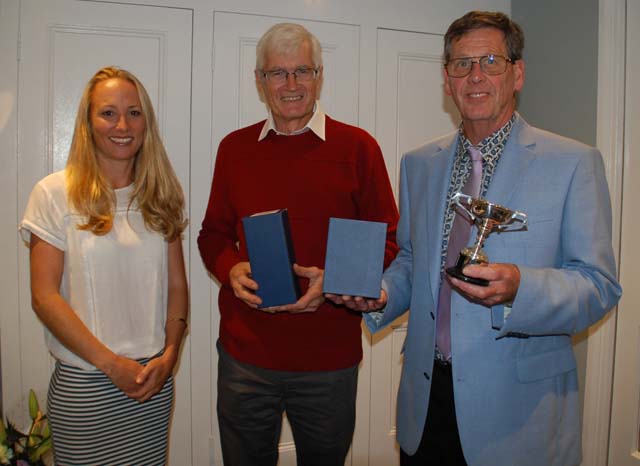 'Thank you Ladies' 'Folkboats Forever'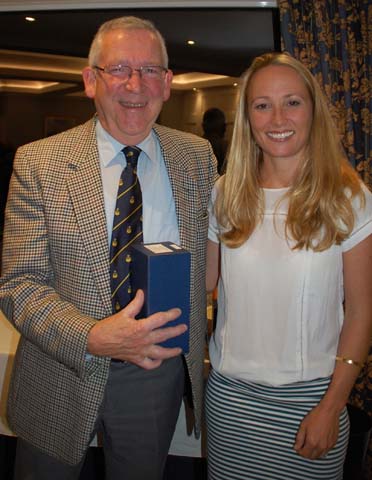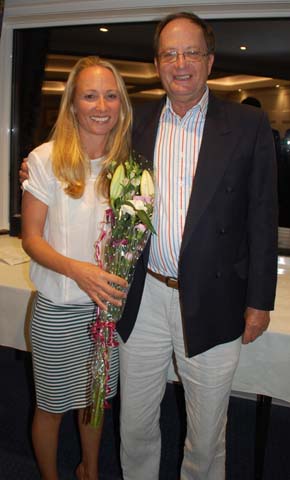 'Michael Craig, Acorn of York, Overall Winner Class 2' 'Our thanks to Ali Willard of sponsors Spence Willard'
To view more photos of the prize giving in the Photo Gallery, please click here.
(Photos courtesy of Marion Heming)
---
RSYC Clay Pigeon Shoot
Saturday 23rd September
We couldn't have asked for a better day. The sun shone and winds were light as we gathered at the hut at Bowcombe Shooting Ground for a pre shoot coffee to settle the nerves. Stories were swapped about the last time a gun had been picked up and Patrick Farrell told us about the new shotgun he'd acquired and assured us that it "shot to the left". Nothing like getting one's excuses in first!

David Fentum led us to the first stand and a chance to get one's eye-in. Despite the stories of "I haven't shot for ages" and "my gun shoots to the left" everyone shot very well. With the first stand out of the way and the guns' nerves having settled a bit David led us around the other seven stands offering sound advice to each of us, which really helped to notch up the scores. Special thanks to David for his organisational skills and much appreciated advice.

Everyone was shooting above their average, but it soon became apparent that two of our number, Andy Hallett and Turgay Hassan-Hicks, were showing the rest of us two clean pairs of heels. By the 6th stand they were neck-and-neck. Turgay scored a straight 10 on the 7th and 8th stands taking him to eventual victory.

Once finished we returned to the Club for a delicious lunch and, like fishermen, stories of the one(s) that got away. Podium positions went to: 1st Turgay Hassan-Hicks 70/80, 2nd Andy Hallett 65/80 and 3rd Alan Mower 50/80.

It was a fabulous day and we are all looking forward to the next RSYC Clay Shoot and an opportunity to challenge Turgay once again for the coveted trophy and bottle of wine for top gun.
Graham Fell
Rear Commodore (House)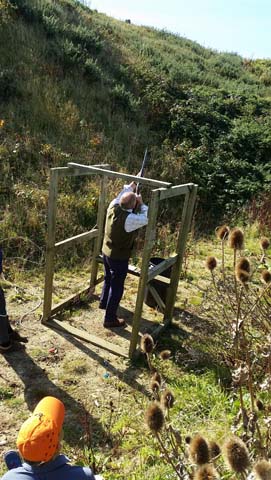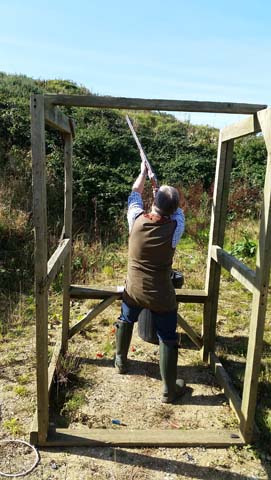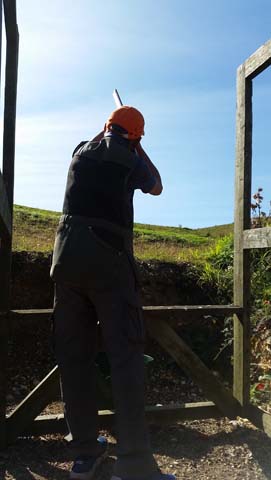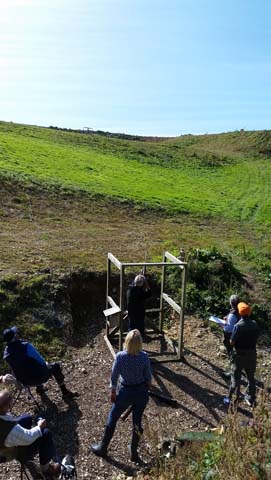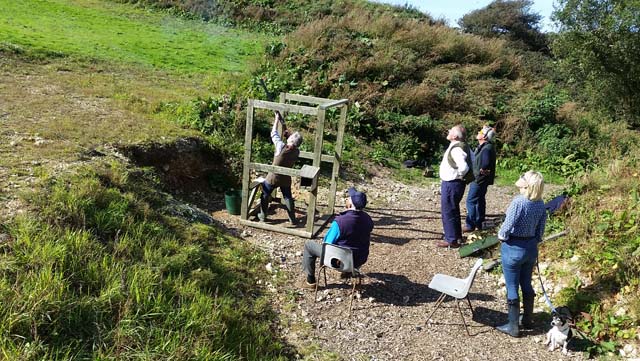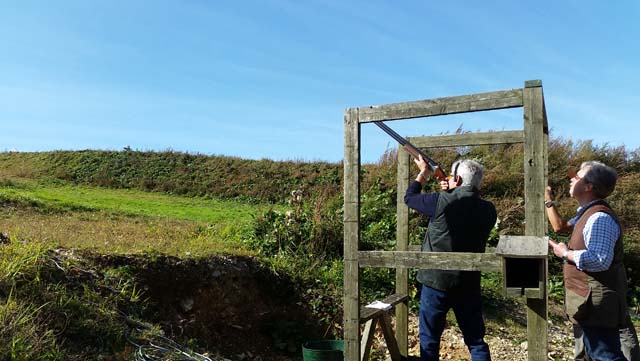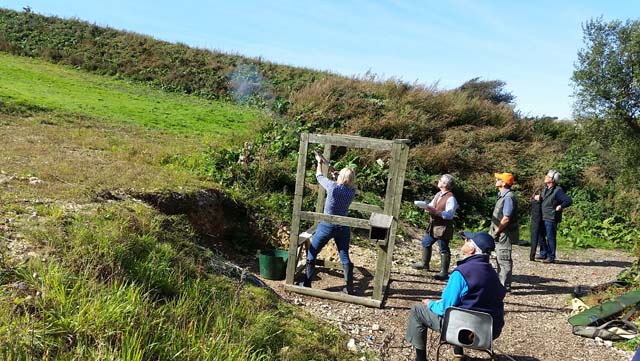 (Photos courtesy of Andy Hallett)
---