RSYC Jazz Weekend
7th & 8th April 2018
The third Royal Solent Jazz Weekend got off to a flying start with Nick Page playing guitar in the downstairs bar, free to all entrants. Supper came next and then the Tomasso Starace Quintet put on a sizzling couple of sets. Tomasso has a stellar reputation in Italy and England and was supported by guitarist Nick Page, pianist Jim Thorn, bass player Jon Thorne and drummer Ken Black. A fascinating evening, based on a joyous meeting of minds between the five players, was enhanced by the presence of 15-year old saxophonist Cameron Tarry, fresh from his debut with the IW Youth Jazz Orchestra, who sat in on several numbers.
On Sunday we had a relaxed lunchtime concert from the Ben Branca/Jim Thorn Latin quartet. Ben Branca (sax) has recently moved to the island and was joined by pianist Jim and bass player Jon – both with us the on Saturday evening – as well as regular jazzer Jose Lito on congas. Tom Jobim's music dominated, as might be expected, but many other composers have contributed to the Latin repertoire and all the musicians made their solo statements as well as contributing to tight ensemble playing.
Another vintage Jazz Weekend, open to the general public as well as club members.
The Club's next jazz event takes place on 8 December, when we will be host to one of the pillars of modern UK jazz, veteran saxophonist Art Themen.
Dick Dawson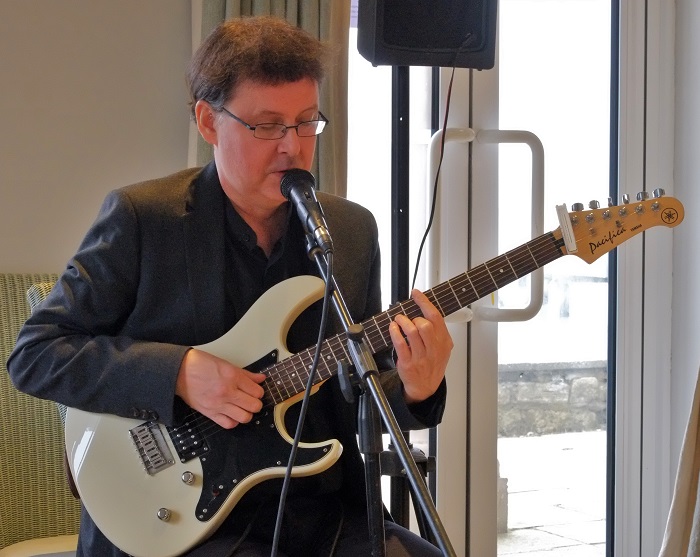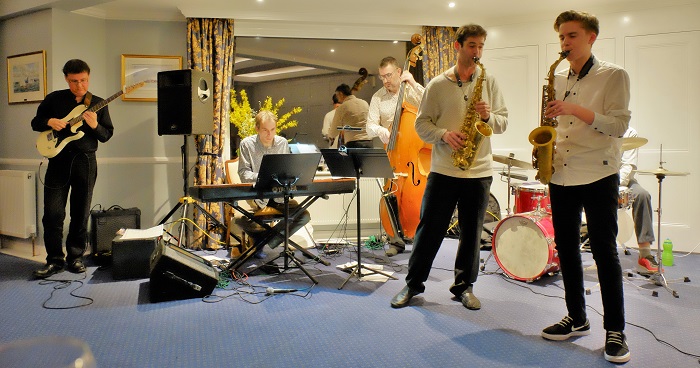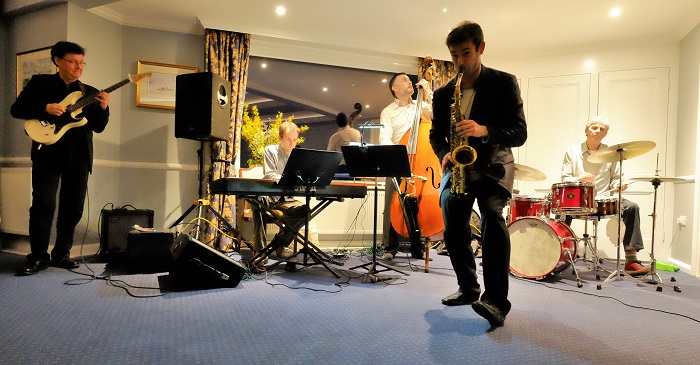 ---
Christmas Wreath Workshop
Friday 8th December
Last Friday's Christmas wreath making workshop for members was a great success, with twelve ladies creating festive door wreaths whilst enjoying mulled wine and mince pies.
The Club was pleased to welcome Sue Clark, a former lecturer in floristry and Chelsea Flower Show Gold medallist, to offer expert help and guidance on wreath making and a big thank-you is due to our flower lady Anne Gradwell for arranging this.
Following on from the popularity of this event and member feedback, we hope to plan more events in the realms of floristy and gardening in 2018.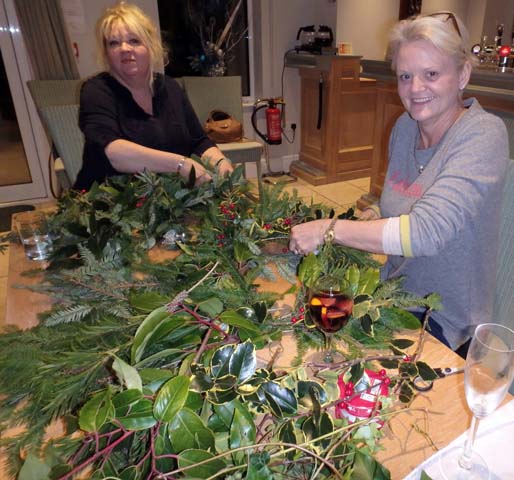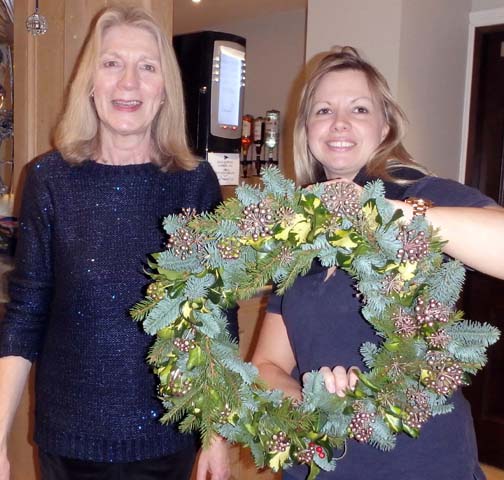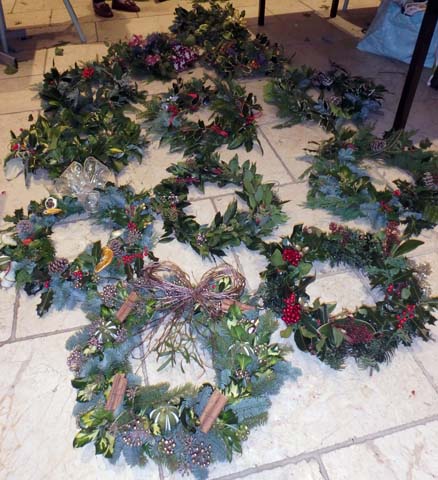 ---
Allison Neale and the Nick Page Quartet
Saturday 4th November
Alto saxophonist Allison Neal played to a sell-out audience at the Royal Solent Yacht Club on Saturday 4th November. She was accompanied by the Nick Page quartet, comprising four of the Island's best known jazz musicians.
Dave Gelly wrote "Allison Neale plays the alto saxophone with a tone so light and airy it positively melts at the edges" and so it proved. Allison has a very assured style, reminiscent of Paul Desmond, with long lyrical lines and great delicacy. Her flute playing was, if anything, even more alluring.
Although the musicians had less than an hour before taking the stand, it felt as thought they had been together for years. Each member of the quartet reacted to Allison's style and that empathy produced playing of a very high order. Ken Black's drumming, in particular, was delicate and sympathetic. Pianist Jim Thorn and bass player Jon Thorne also showed great skill in never obscuring Allison's thoughtful playing.
Most notable was the partnership between Allison and guitarist Nick Page, who played together for many years before Nick moved to the Island. Nick opened Cole Porter's "Night and Day" with a simple statement of the theme and then broke into song. One of the features of the night was Allison's ability quietly to decorate Nick's singing line without taking our attention away – the perfect partnership.
More than 80 people enjoyed supper before the music and the total audience was just under 100 – all very lucky people.
The concert was the latest in the Royal Solent's programme of jazz events. The next will be the Jazz Weekend in April.
Dick Dawson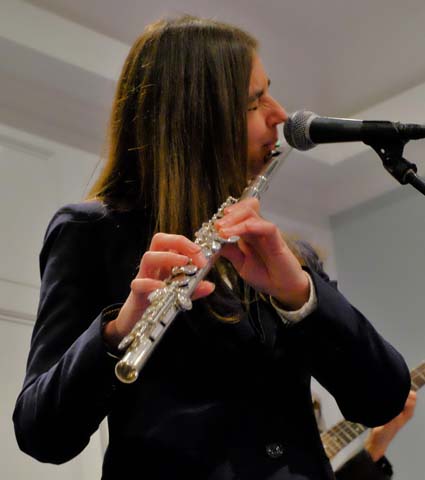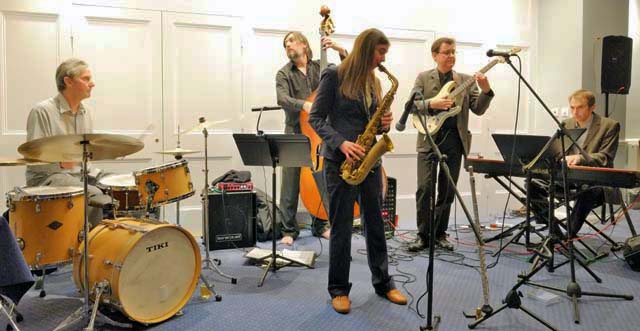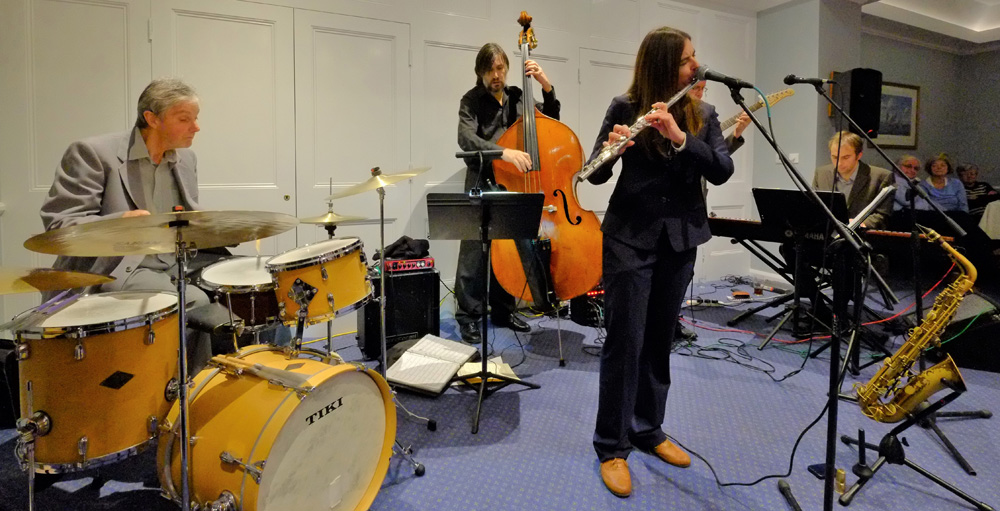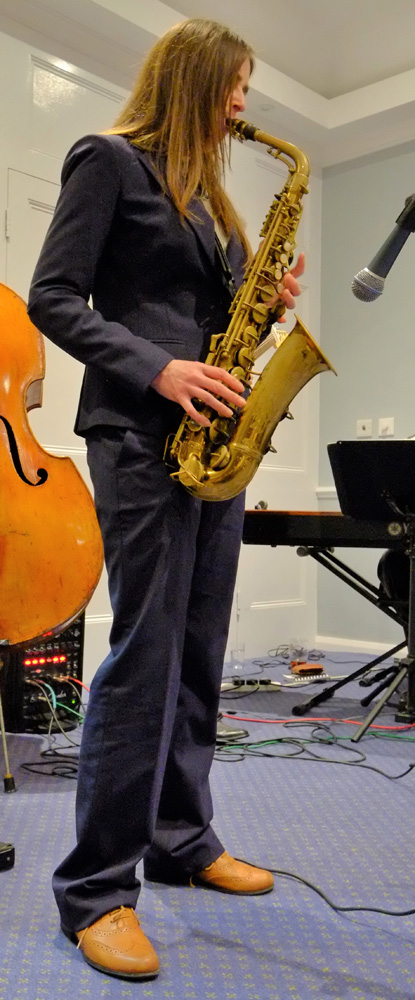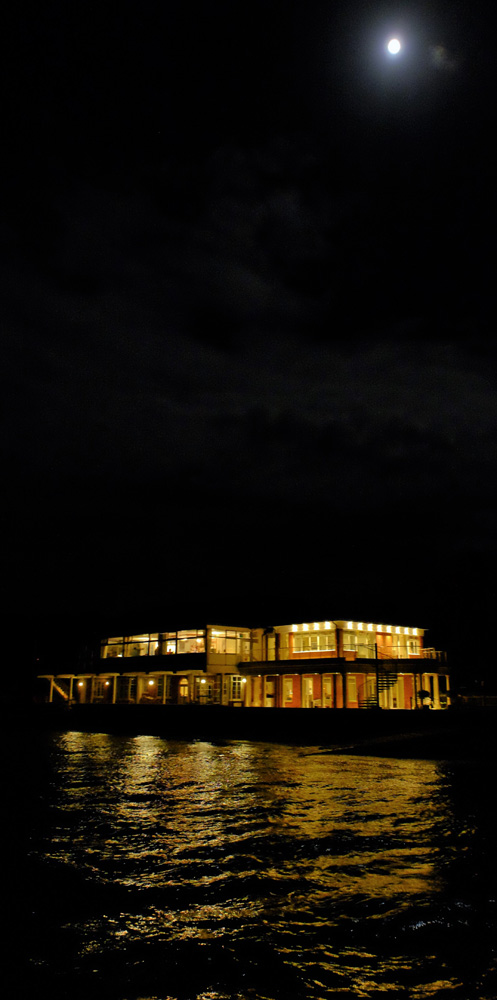 Photos courtesy of Bob White
---
Laying Up Dinner
Saturday 28th October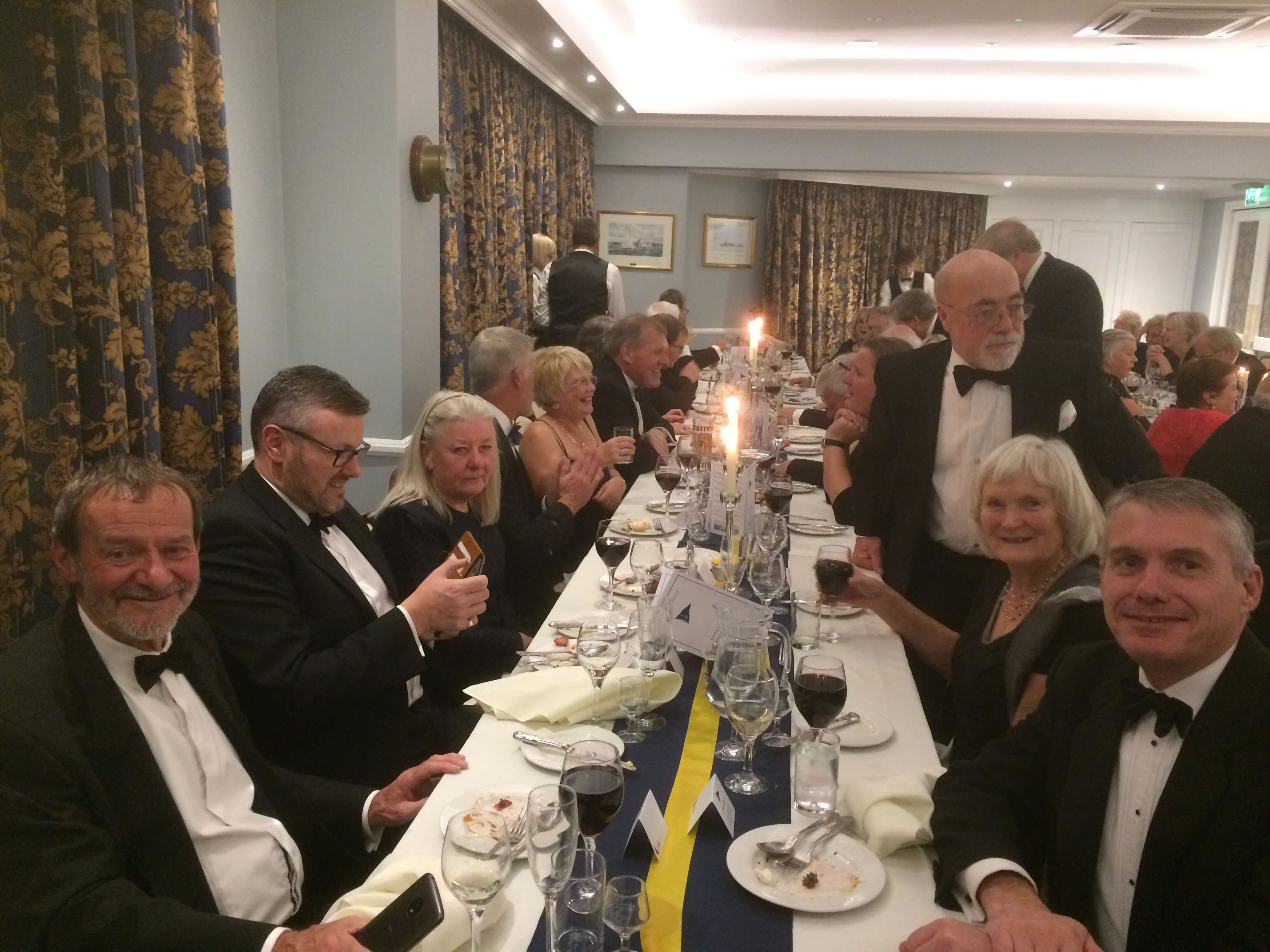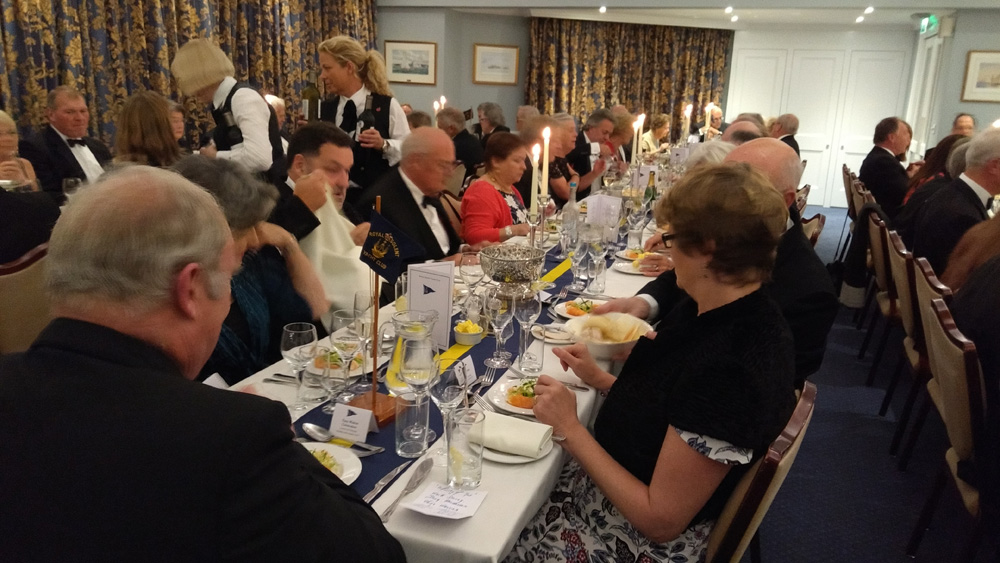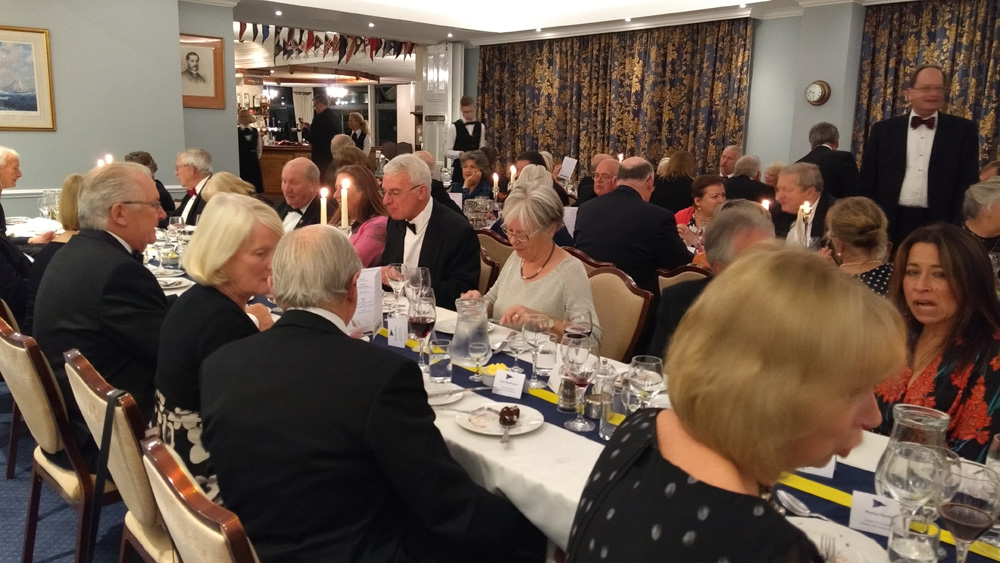 Photos courtesy of James Day & Dick Dawson
Seventy members attended the Laying Up Dinner on Saturday 28th October, which was a great success. Many members have commented on a great menu, particularly the lamb, which was exquisite. The Laying Up Dinner is traditionally the occasion when the Club's trophies are presented; so too, on this occasion.
Prior to the trophy presentations, the Commodore mentioned that the Noreen Smith Trophy, donated by Mrs Noreen Smith, and awarded for services to the Life of the Club had already been presented to Tony Knaggs for his work in sourcing advertisements for the magazine over a period of ten years. Tony is currently on honeymoon with his wife Susan so the trophy was presented at his party on 14th October.
Herbert Davies Jug
This claret jug is awarded to the RSYC member whose own boat achieved the highest class place in the Round the Island Race. This year, the jug was awarded to Jack Davies, who came first in the J70 Class, in his boat Yeti.
Roger Goodwin Tankard
Awarded to a club member, who has taken part in a cruise of an exceptional nature. In 2016 Pete Garratt, Pat and Dick Dawson, took part in the Arc on Xanadu. An excellent description of the voyage was kept by Pat.
West Wight Sailing Club Distinction Bowl
Presented by Peter Jennings, the trophy is to be awarded to a member who has given a superlative racing performance away from home waters. This year, the trophy was presented to Stella Hurley. When Stella was 8 years old (2015) she won the under 11 Australian Optimist National Championship. In June of this year, now aged 10, she represented Australia in the under 16 America's Cup in Bermuda in her RS Feva. She came 3rd in Race 7 and 11th overall.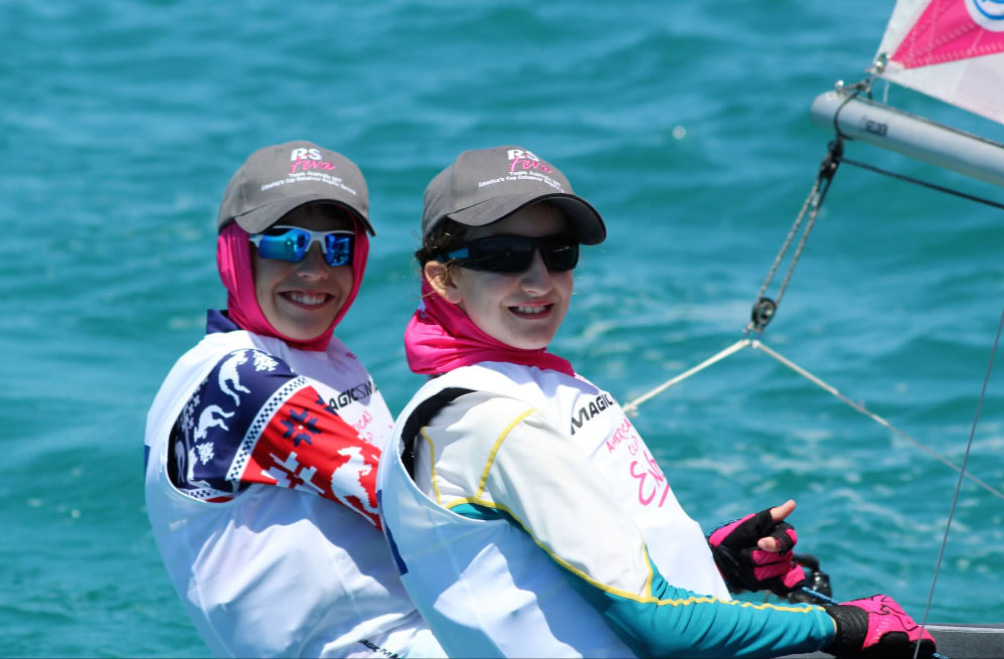 Stella Hurley pictured competing in the America's Cup
Morva Cup
Named after Colonel Landon's yacht, Morva, in which he cruised extensively between 1963-1972, this trophy is awarded for the best kept cruising log. Bol Minchin's outstanding log of the Minchin family cruise around Prince William Sound, Alaska, onboard Seal led to this award.
John Leonard Trophy
Given by Richard Leonard, in memory of his father, this trophy is awarded to the motor yacht that has travelled the furthest from its home port in one cruise. This year Brian and Maxine Crawford on Brainwave and Joe and Pat Lester on Prudence of Yar, were jointly awarded this Armada dish trophy for their passage in company from Yarmouth to the Netherlands.
Bernard Turner Endeavour Trophy
Presented by Mark Turner, in memory of his father, this trophy is awarded to the junior sailor showing the most determination to succeed. This year it is awarded jointly to Finlay Edmonds and Laurie Holdsworth for their efforts in the Laser 4.7 Class. Both have raced whenever possible and taken part in the dinghy training and coaching at the Club. As a result, there has been a steady improvement in their results. In Dinghy Week, Finlay came 4th overall with his best individual results being three seconds and two thirds. Laurie was 5th overall, his best individual results being two thirds.
June Sleep Rose Bowl
This rose bowl is awarded to a Club member who has given outstanding service to the Club. Throughout the summer, David Porter has played a huge part in the Club's on the water activities. He has dedicated Wednesday evenings, many weekends and Folkboat Week to providing outstanding service in the Club's RIB. He has often 'got his hands dirty' carrying out repairs to Club boats and has shared his considerable knowledge with Club members in his 'Get Knotted' class.
Commodore's Award
Presented by the then Commodore, John Crowhurst, in 1999, it is to be awarded solely at the discretion of the Commodore in respect of outstanding service of any kind to the Royal Solent.
This year's award goes to Miles Peckham for his Great Pedalo Challenge, which saw teams of four, including many RSYC members and staff, pedal around the Isle of Wight in just under fourteen hours. This enterprise took place in support of Wet Wheels, a charity which promotes and accesses powerboat activities for disabled people and raised £40,000.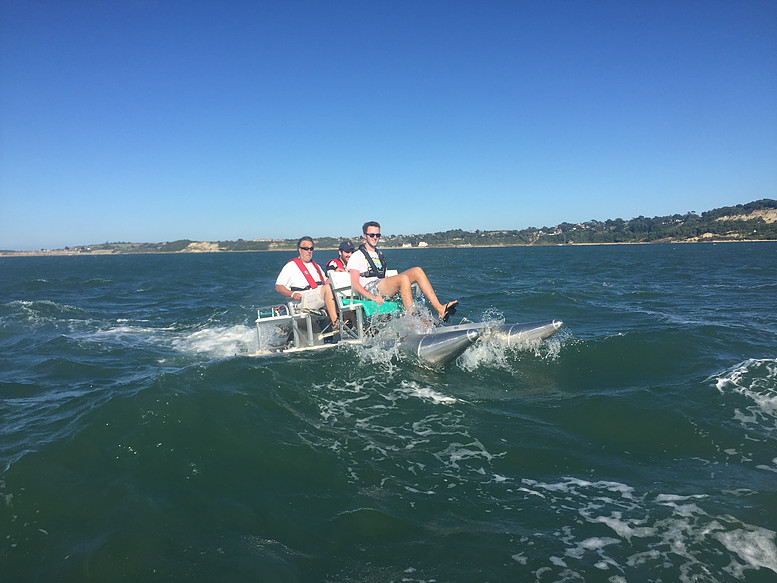 Gold Lace Bowl
This trophy is awarded to a member who has performed meritoriously in furthering the interests or prestige of the Club. It is not always awarded annually but this year was presented to Mark Hall. Mark had an extremely successful tenure as Commodore. He has been a passionate supporter of the Royal Solent both on and off the water for many years where he champions junior sailing, and organises events for young RSYC and YSC members at the Club and at Bouldnor on several occasions during every year. He is one of our regular Wednesday race officers and heads up one of the start boat teams during the Taittinger RSYC Regatta. Mark donated the pontoon at the end of the jetty and was also extremely generous in the support given to refurbishing the Old Dining Room (Solent Room).
Hamish Fletcher
Secretary
---
Cruising Lunch at Royal Lymington Yacht Club
Tuesday 24th October
The Cruising Group, led by our Captain of Cruising Geoff Neary, were out to lunch on the other side of the Solent last Tuesday.
Undeterred by a westerly wind gusting 30ks, over 50 Members crossed the Solent (albeit some by ferry!) to enjoy the hospitality of the Royal Lymington and a delicious carvery lunch.
It was a fine way to mark the last trip of the season, with the final event being the Autumn Lunch at the Club on Tuesday 21st November.
If you are interested in joining the Cruising Group on any future cruising events, please contact Geoff Neary via the Club.
Peter Spink
Sailing Secretary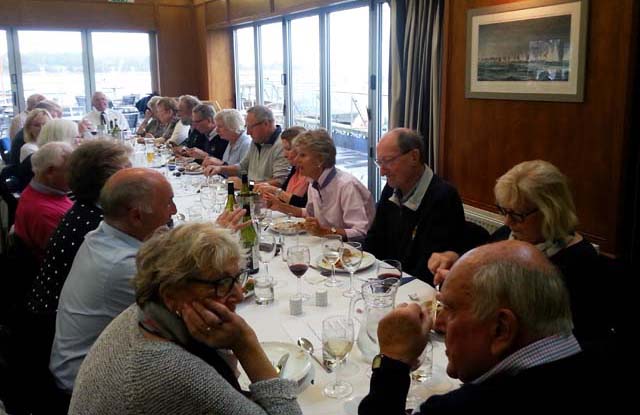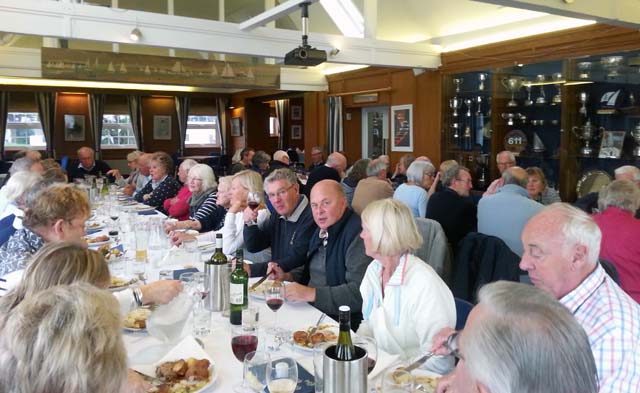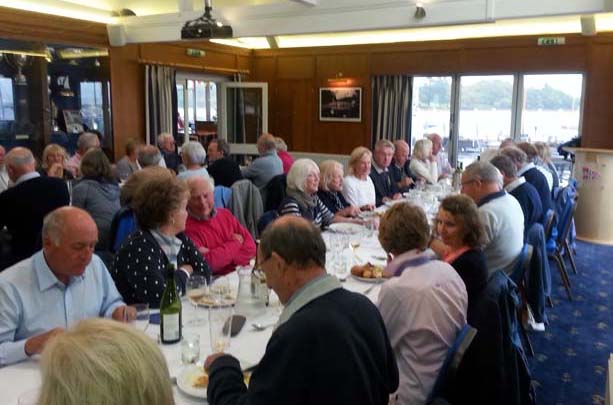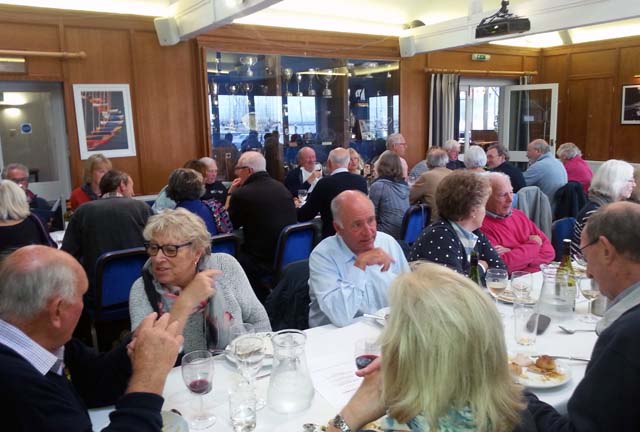 (Photos courtesy of David Porter)
---
The Turkey Cup
Sunday 8th October
The end of the summer season of racing is traditionally marked by the Turkey Cup, which took place on the morning of Sunday 8th October. A very light and variable breeze made for a slow drift on the tide to number 5 buoy followed by some frantic kedging to avoid an unscheduled visit to Cowes! For some the call of an early lunch at the Club proved irresistible and the sound of engines being started interrupted the calm. Those made of sterner stuff, however, were rewarded with an ebb tide and westerly breeze.
Line honours went to Fizz, finishing 5 minutes and 52 seconds within the time limit! The 'Allan Spriggs Trophy', and a turkey plate was awarded by Allan Spriggs to Samphire, the winner on handicap, beating Pilgrim by 8 seconds. There was some compensation for Pilgrim however as tradition has it that the second placed boat receives a turkey courtesy of Harwoods the Chandlers. Mimi was in third place and received an engraved glass.
To view the full results, please click here.
Peter Spink
Sailing Secretary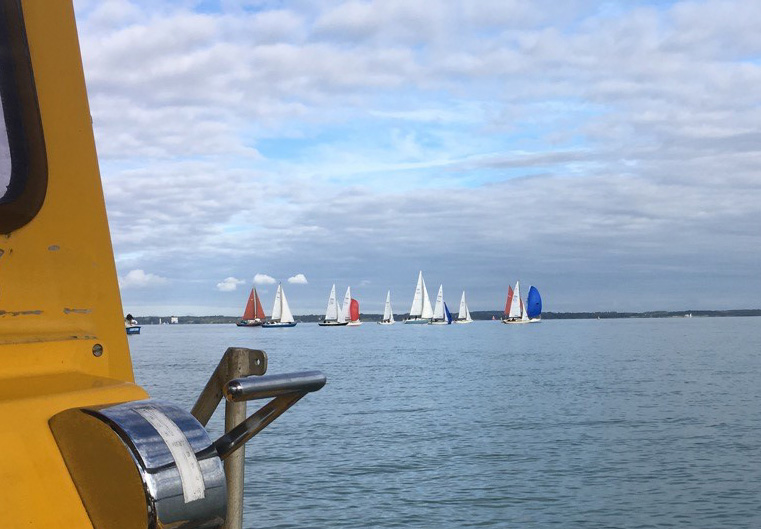 ---
Yarmouth RNLI Fish Supper
Friday 6th October
The clubhouse was bedecked with RNLI flags on Friday for this year's fundraising Fish Supper in aid of the RNLI.
The Royal Solent has a close affinity with the Yarmouth lifeboat station and is very proud to be able to host this annual event, which is open to the local community.
This year's supper was a sell-out event and raised an amazing £2053, with £5 donated by the RSYC from each of the 112 tickets sold and £1493 raised through raffle ticket sales and a game of 'Heads & Tails'.
To read the Yarmouth RNLI press release on this event, please click here.
Claire Hallett
Deputy & Membership Secretary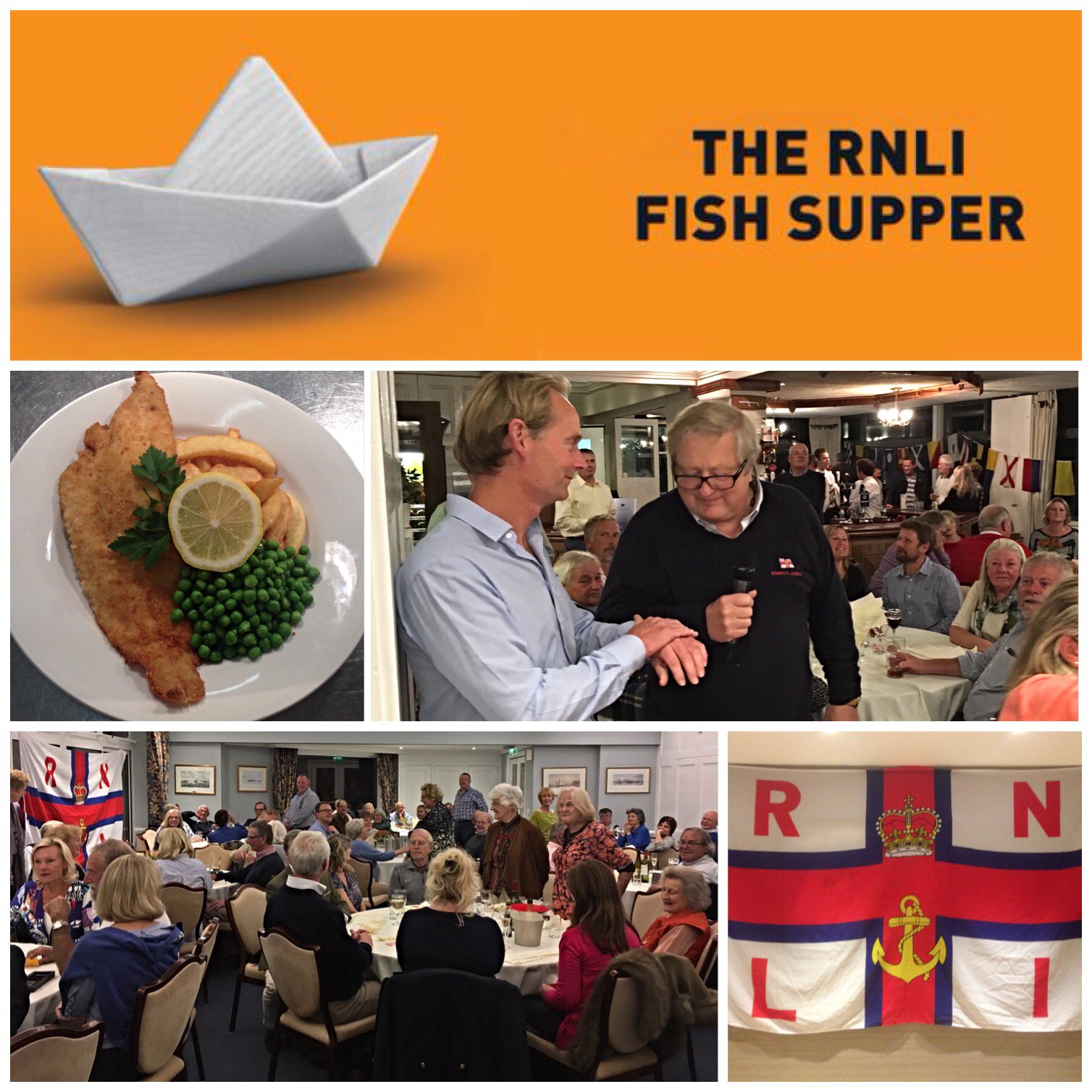 ---
Spence Willard Wednesday Evening Series Prize Giving Supper
Wednesday 27th September
Over 70 Members enjoyed a convivial evening and excellent supper at the Club last night.
Guests of honour were Duncan and Ali Willard, of sponsors Spence Willard, to whom the Club is very grateful for their continued support of the Series.
Rear Commodore Sailing, Nicholas Measor, conducted the proceedings and Ali Willard very kindly presented the large array of trophies, a number of which deserve a special mention.
David Fox and the crew of Bossa Nova and Miles Norris in his Laser had an outstanding series.
Bossa Nova received the 'Hempstead Trophy' as the overall winner of the Folkboat Class and the Wednesday Evening Po for the greatest number of firsts over all classes.
Miles Norris, sailing his Laser, won each of the three series and was the Overall Winner of the Laser Class.
The 'Iseult Centenary Trophy' was awarded to Sarah Turvill of XOD Spray for the most improved performance of the season. Taking over Spray's helm from previous Class Captain, Malcolm Taylor, must have been a little intimidating but her steady progress throughout the series has been a pleasure to watch.
Acorn of York had a mixed series although she did win a number of trophies! She received the 'Ambitron Trophy' for being the overall winner of Class 2 and the 'Did Not Finish Award' for the greatest number of 'DNFs'; an unusual combination perhaps. She was also awarded the 'B&8 Trophy', past awards of which have been made for getting caught on the anchor chain of the committee boat, and for a somewhat infamous incident concerning a race officer and a starting pistol. Acorn's triumph was to enquire of the race officers via VHF radio whether it was 'B' or 'D' that was a mark of the course. The Race Officer's reply was "Bravo" to which Acorn retorted "That may be so, but was it B or D?" Needless to say all of her trophies were received with her customary good grace and humour!
The 'Sailing Office Award' was presented to Barbara Hempstead and Teresa Fox for the support that they have given both on and off the water throughout the year.
A very large thank you was also given to the Wednesday Evening Race Officers, Tony Walton, Mark Hall, Nicholas Measor, Paul Nicholson, Jeremy Willcock, Sue Lindsay, Anne Kyle and Sue Clements.
The Club is very grateful to all who give up their time to Race Officer, drive RIBS, and help in the Sailing Office, without whom racing would not be possible.
Peter Spink
Sailing Secretary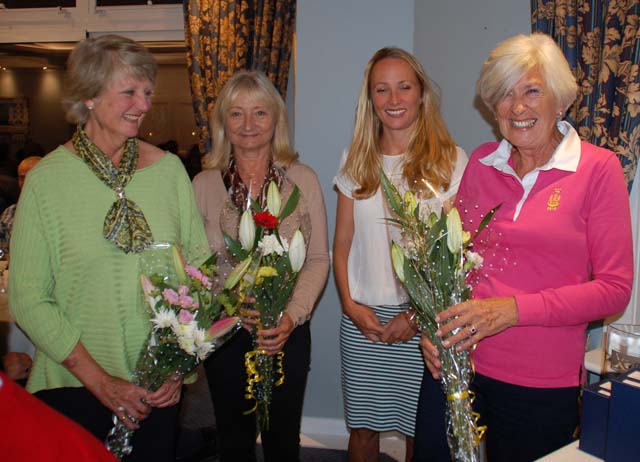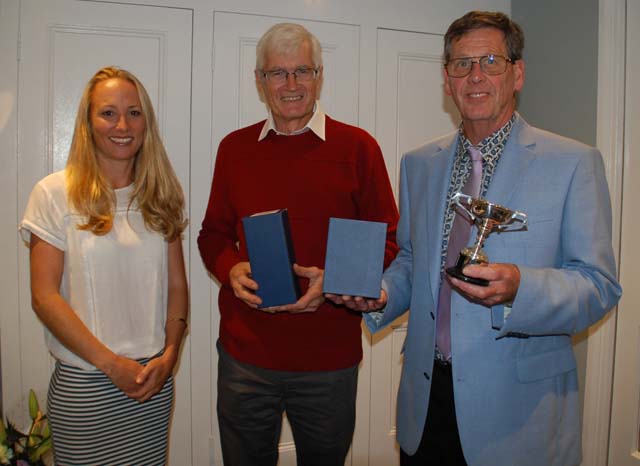 'Thank you Ladies' 'Folkboats Forever'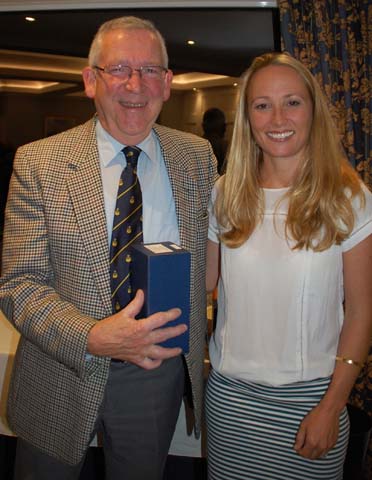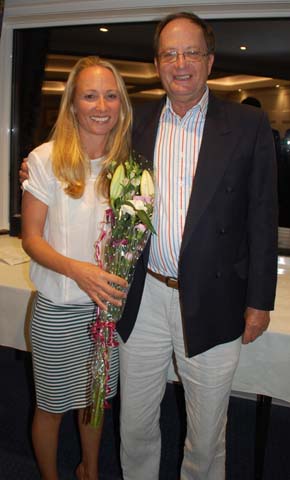 'Michael Craig, Acorn of York, Overall Winner Class 2' 'Our thanks to Ali Willard of sponsors Spence Willard'
To view more photos of the prize giving in the Photo Gallery, please click here.
(Photos courtesy of Marion Heming)
---
RSYC Clay Pigeon Shoot
Saturday 23rd September
We couldn't have asked for a better day. The sun shone and winds were light as we gathered at the hut at Bowcombe Shooting Ground for a pre shoot coffee to settle the nerves. Stories were swapped about the last time a gun had been picked up and Patrick Farrell told us about the new shotgun he'd acquired and assured us that it "shot to the left". Nothing like getting one's excuses in first!

David Fentum led us to the first stand and a chance to get one's eye-in. Despite the stories of "I haven't shot for ages" and "my gun shoots to the left" everyone shot very well. With the first stand out of the way and the guns' nerves having settled a bit David led us around the other seven stands offering sound advice to each of us, which really helped to notch up the scores. Special thanks to David for his organisational skills and much appreciated advice.

Everyone was shooting above their average, but it soon became apparent that two of our number, Andy Hallett and Turgay Hassan-Hicks, were showing the rest of us two clean pairs of heels. By the 6th stand they were neck-and-neck. Turgay scored a straight 10 on the 7th and 8th stands taking him to eventual victory.

Once finished we returned to the Club for a delicious lunch and, like fishermen, stories of the one(s) that got away. Podium positions went to: 1st Turgay Hassan-Hicks 70/80, 2nd Andy Hallett 65/80 and 3rd Alan Mower 50/80.

It was a fabulous day and we are all looking forward to the next RSYC Clay Shoot and an opportunity to challenge Turgay once again for the coveted trophy and bottle of wine for top gun.
Graham Fell
Rear Commodore (House)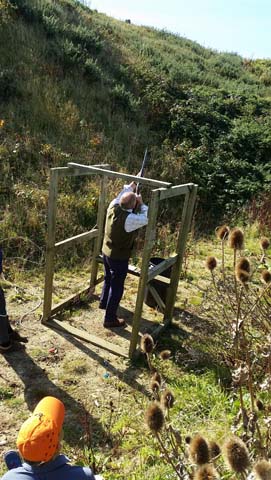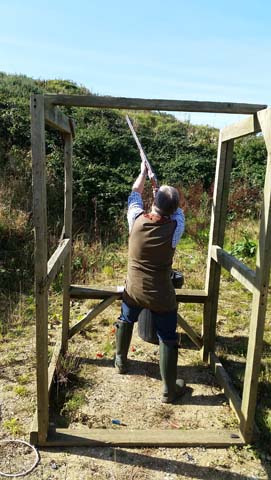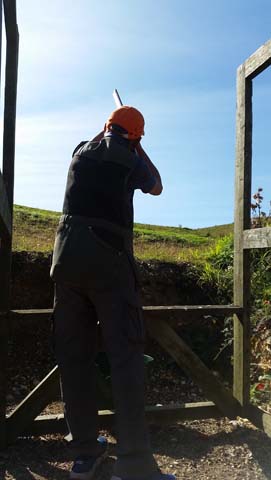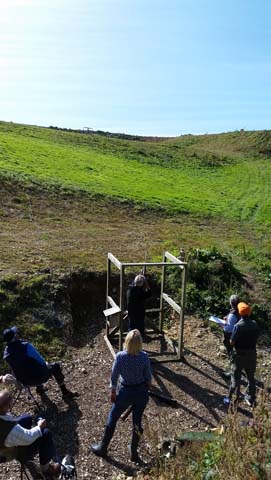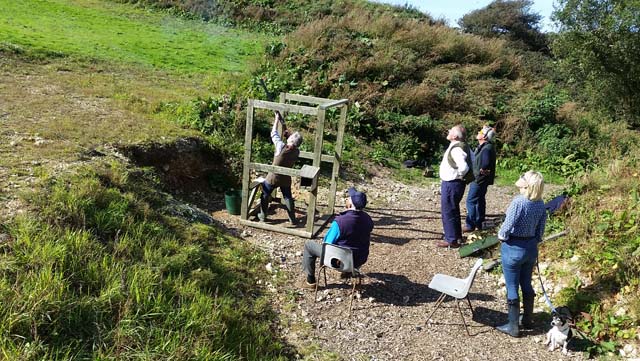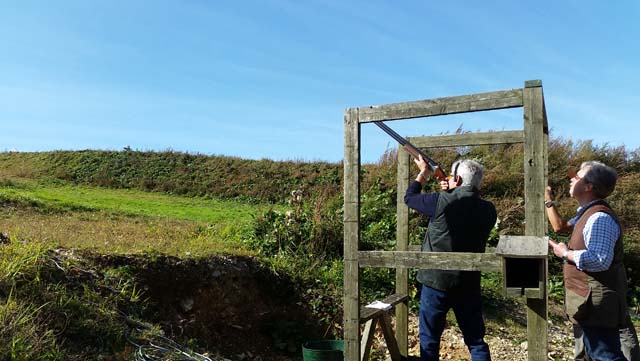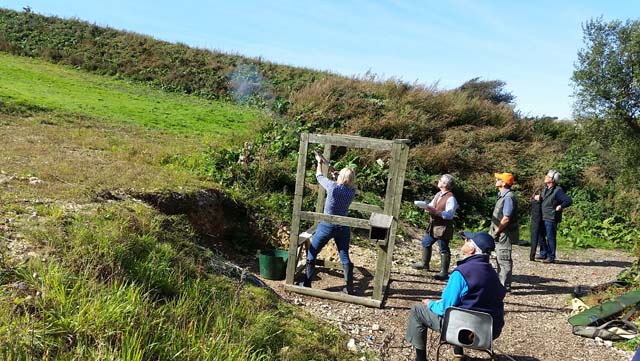 (Photos courtesy of Andy Hallett)
---