RSYC Book Club - My Cousin Rachel by Daphne du Maurier
Thursday 6 May 2021
The RSYC Book Club meets every 4 to 5 weeks via Zoom. The next meeting will take place on Thursday 6th May at 2.30 pm. The book for discussion is My Cousin Rachel by Daphne du Maurier, all members are welcome to join. Please see an introduction to the book below: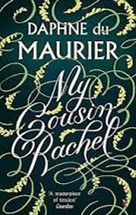 My Cousin Rachel is a novel by British author Daphne du Maurier, published in 1951. Like her earlier book Rebecca, it is a mystery-romance, set primarily on a large estate in Cornwall. Orphaned at an early age, Philip Ashley is raised by his benevolent older cousin, Ambrose. Resolutely single, Ambrose delights in Philip as his heir, a man who will love his grand home as much as he does himself. But the cosy world the two construct is shattered when Ambrose sets off on a trip to Florence. There he falls in love and marries……….
Any member interested in joining the group should contact Pat Dawson email pat@dpdawson.co.uk or phone (01983) 760655.