Folkboat Week 2022
20th to 27th August
---
Entry & Moorings
Please note that entries to Folkboat Week 2022 closed at midnight on Sunday 14th August 2022.

If you are a past Folkboater not racing, but wishing to attend social events and book a mooring during Folkboat Week, please call the Royal Solent on 01983 760256 to make your booking.
If you need a Yarmouth Harbour mooring for 7 nights for a Folkboat or 8 nights for a Nanny Boat, please book it in advance via the RSYC.

Please note that race boats without nanny boats need to vacate their berths by midday on Saturday 27th August 2022. Race boats and their nanny boats must vacate their moorings by midday on Sunday 28th August 2022.
The following moorings are available to book online:
7 Nights Discounted Walk Ashore Berth (Sunday night - Saturday night),

£235
8 Nights Nanny Boat Walk Ashore Berth (Saturday night - Saturday night) (including electric hook-up):
9.1 - 10.49m in length: £288
10.5 - 12m in length:

£328
12.1 - 13.5m in length: £385
For other lengths please contact the Sailing Office for mooring rates.

Please book your mooring through the RSYC by midnight on Friday 12th August 2022.
Yarmouth Harbour is fully booked, so once our allocations are gone, it may prove difficult to squeeze you in.

If you have any queries please ring the Royal Solent Yacht Club on 01983 760256 or email our Sailing Secretary, Joanna Minchin at sailing@royalsolent.org.
---
Racing
To view the Notice of Race, please click here.
To view the Sailing Instructions, please click here (available 8th August 2022).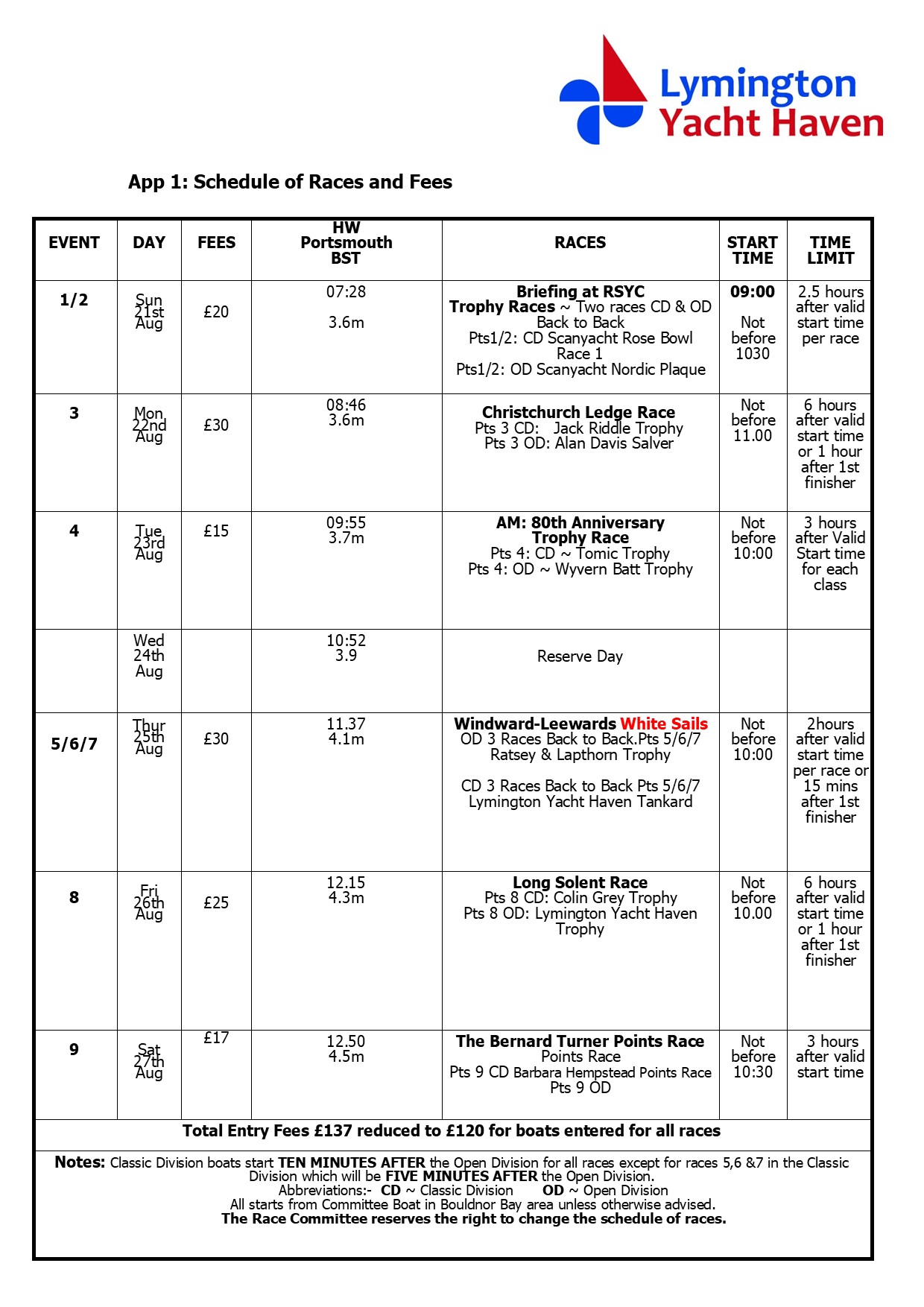 ---
Social Events
Please note that the online social bookings closed at midnight on Sunday 14th August 2022.

To enquire about booking for social events after this date, please telephone the RSYC Office on 01983 760256.

The dress code for social events is smart/casual.

Please note, both Saturday social events (20th & 27th August) have been brought forward to start at 18:00 to allow people to catch the last ferry back to Lymington.