Secretary's News 8th August 2017
08/08/17
Taittinger RSYC Regatta
The Club hosted its 10th Taittinger RSYC Regatta between 14th -16th July. We were lucky with the weather, which stayed fine for the Champagne Reception on Friday and the Towers Party on the Saturday evening; over 900 entrants and helpers attended the former event with well over 1000 attending the latter. On the water, there was just the right amount of wind for the 178 boats entered, which resulted in some excellent racing on both Saturday and Sunday. We were delighted to see that the overall regatta winner was a club member, Nick Bradley, who won all three of his races in his Contessa Merak II.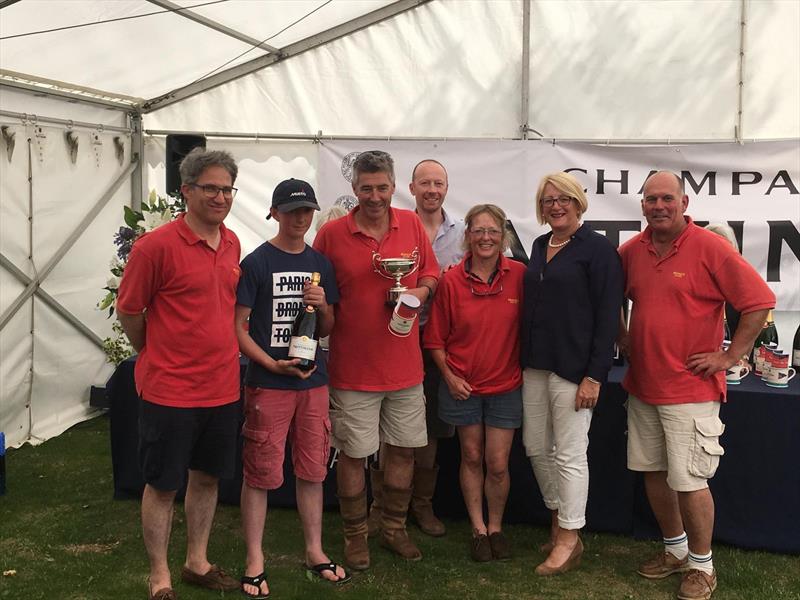 Summer Shindig
In the absence of a Summer Ball it was great to see that 125 members attended the Summer Shindig on Saturday. It was encouraging to receive a number of complimentary emails saying how much the evening was enjoyed, whether it was Lucy's sand castles, Tom & Alberto's buffet or The Accelerators' set. As one member wrote "It was the Club at its best".
Pedalo Challenge
​Members may be aware of a charity called Wetwheels, which aims to build disabled people's confidence by providing the opportunity to access the sea in a fun, safe, stimulating and rewarding way using specially modified, fully accessible powerboats. Wetwheels was founded by disabled yachtsman, Geoff Holt MBE, who members may recall gave such a thought-provoking talk at the Club last year and who has spent much of his life promoting the benefits of being on the water to disabled people. To raise money for this charity, one of our members, Miles Peckham, has organised a sixty-five mile Round the Island Challenge by pedalo. Teams of four will pedal for about an hour each before being relieved by the next team. One of these teams will be made up of Matt, our Bar Steward and three of the bar staff, Will, Andy and Matt Whale. Should members wish to sponsor this worthy cause, details can be found on their website: https://www.greatpedalochallenge.co.uk/donate
​Moules Night
An addition to the Summer Programme will be a Moules Night on Saturday 2nd September. This is a popular event so please to book early to avoid disappointment. Please note that there won't be a table plan for this event so if you would like to reserve a table it is recommended that you arrive early. For more information and to book online, please click here.
A Day at the Races
Just a reminder that RSYC member Geoff Horsnell, is organising a day out at Goodwood on Sunday 15th October - the season's finale. Assuming a take-up of 49 the price would be £70 per person, this includes:
Entry to the Richmond Enclosure (the premier stand)
Return coach travel from the clubhouse to Richmond Enclosure
Return ferry tickets
Buffet breakfast in the Club
Members, partners and guests are all welcome.
The dress code is jacket and tie for men (Ladies do not need to wear hats).
This looks to be an exciting day out and value for money. If this is to go ahead, we need an idea of numbers, so if you are interested, please inform the Front Office or click here to register your interest online as soon as possible.
Club Sailing
In the decade that I have been the Secretary, this has unfortunately been the most disruptive year for Wednesday evening racing with either too much or too little wind. Let us hope that over the next six weeks we are granted a reprieve, not only for Wednesday racing, but also for Sunset Series, Dinghy Week plus the three external regattas we are hosting - Folkboat Week, the Royal Artillery Regatta and the Contessa Regatta.
Children's Christmas Party
Until recently the Club used to host a Children's Christmas Party in the week following Christmas. It is quite a difficult event to run primarily because the requirements for a six year old will be different to those of a ten year old. The Club is willing to lay on a party this year, but it would be helpful if members who have young children, or more likely grand-children, would let the Club know if they would support such an event and if so, the numbers and ages of the children involved. In addition, if any parent or grand-parent would is willing to assist in running such an event, would he or she please step forward!
​Member Notices
Non-member Visitors. Members rightly guard their privileges and one of these relates to visitors not exceeding the Seven Times Rule, which states that "Members shall be allowed to introduce guests....and every such guest shall be considered the guest of, and shall be accompanied by, the Member introducing him or her provided that no person shall be introduced more than seven days in any period of twelve months or whose conduct or presence in the clubhouse shall be considered by the General Committee to be objectionable or prejudicial to the interest of the Club. Names of guests must be entered in the Visitors' Book on each occasion upon which they use the Club premises."
Questions are often asked when members see other members bringing in partners, children or other relatives who are non-members into the Club without signing them in. To avoid any suspicion of impropriety, it would be appreciated if members bringing any non-member into the Club would please abide by the above rule and sign them in on each occasion.
Parking. I mentioned in a previous Secretary's News that it is the intention to improve car parking, which is at its most difficult during August, especially with the increase in the width of most modern cars. This is still on the agenda but negotiations with Green Glen, the company which owns the old Lloyds Bank building and garden, involve working out the optimum solution not only for car parking but also for dinghy storage plus possible tree felling. The latter option needs Council permission, which is far from straight forward so your patience is requested.
Payment Cards. A gentle reminder - members are asked to please keep their Payment Cards in credit as these are not credit cards and should not be used as such. Payment Card balances can be checked and topped up via the front office as well as the bar.

Hamish Fletcher
Secretary