Secretary's News 19th October 2018
19/10/18
New Members
The following are welcomed as new members this month:
Mrs Joanne Conisbee
Dr Dominic Breen-Turner
Member Announcement
It is with deep regret and much sadness that we announce the death of longstanding member Mrs Pam Skinner, who passed away on Sunday 7th October 2018 at the venerable age of 103. Mrs Skinner was a much respected and well-liked member of the Club, and of the local community, volunteering at the Yarmouth RNLI shop for 27 years right up until the age of 101! Her presence will be greatly missed by all at the Royal Solent.
A memorial service will be held at St James' Church in Yarmouth at 2:30pm on Wednesday 24th October, then afterwards at the Royal Solent Yacht Club.
October Mailing
The October Mailing will be sent out by email and should arrive in your inbox by 21st October.
Please keep an eye out for this important email which will contain links to the following online documents:
Letter from the Commodore
2019 Subscription Invoice
2019 Barrier Card Form
2019 Dinghy Park and Mooring Form
2019 Principal Racing Dates
Goodwill Fund Note from the Commodore
Winter Programme
Hard copies of the forms will be available from the Front Office next week and the new folded Winter Programmes will be available to pick up from around the Clubhouse by the end of next week.
Subscriptions
The General Committee recently voted for a modest increase in subscriptions of 2.75% for 2019. Club Rule 21.2 allows for subscriptions to be increased by 10% above the previous year's rates plus the percentage increase in the amount of the Retail Price Index prevailing on 31st July (2.5%). Please refer to the upcoming October Mailing email for full details of 2019 subscription rates.
Outdoor Planters
Our heartfelt thanks go to member Mrs June Smith, who has steadfastly kept the Club's outdoor planters looking fresh and beautiful for many years. June has now handed the baton on to Mrs Hannah Jeffrey and we are grateful to her for volunteering to take this on.
A Gala Night at the Opera
BOOKING NOW OPEN!
On the 10th November soprano Zita Syme and tenor Stephen Anthony Brown will make their first appearance at the Club. These two London-based professional singers have busy international schedules but find time each year to visit Yarmouth and sing in the Community Christmas Concert in St James' Church in Yarmouth. Now they will sing for us!
The Royal Solent evening will commence with an optional dinner, followed by operatic choruses and solos presented by the soloists, accompanied by the new RSYC Choir.
The choir has been rehearsing in recent weeks and the 18 members have been working hard to give our professional soloists the quality support they need.
The programme will be very varied, including major arias and choruses from the classic operatic repertoire as well as some well-loved lighter pieces.
For more information please click here or to book please call the Front Office on 01983 760256.
RNLI Fish & Chip Supper
This year's annual fundraising Fish & Chip supper in aid of the RNLI took place on 5th October and raised an incredible £1875, £625 through ticket sales and £1250 from a raffle and a game of Heads & Tails. Thank you to all those who supported the event and donated so generously.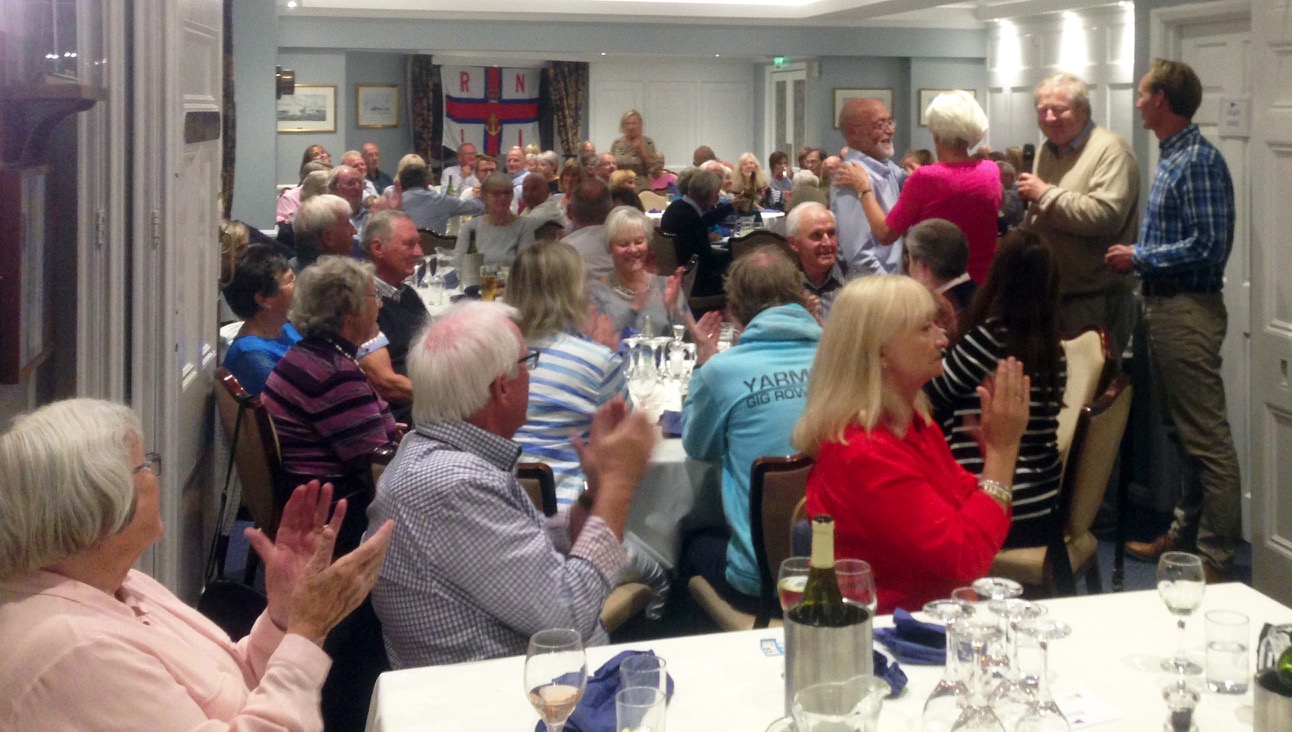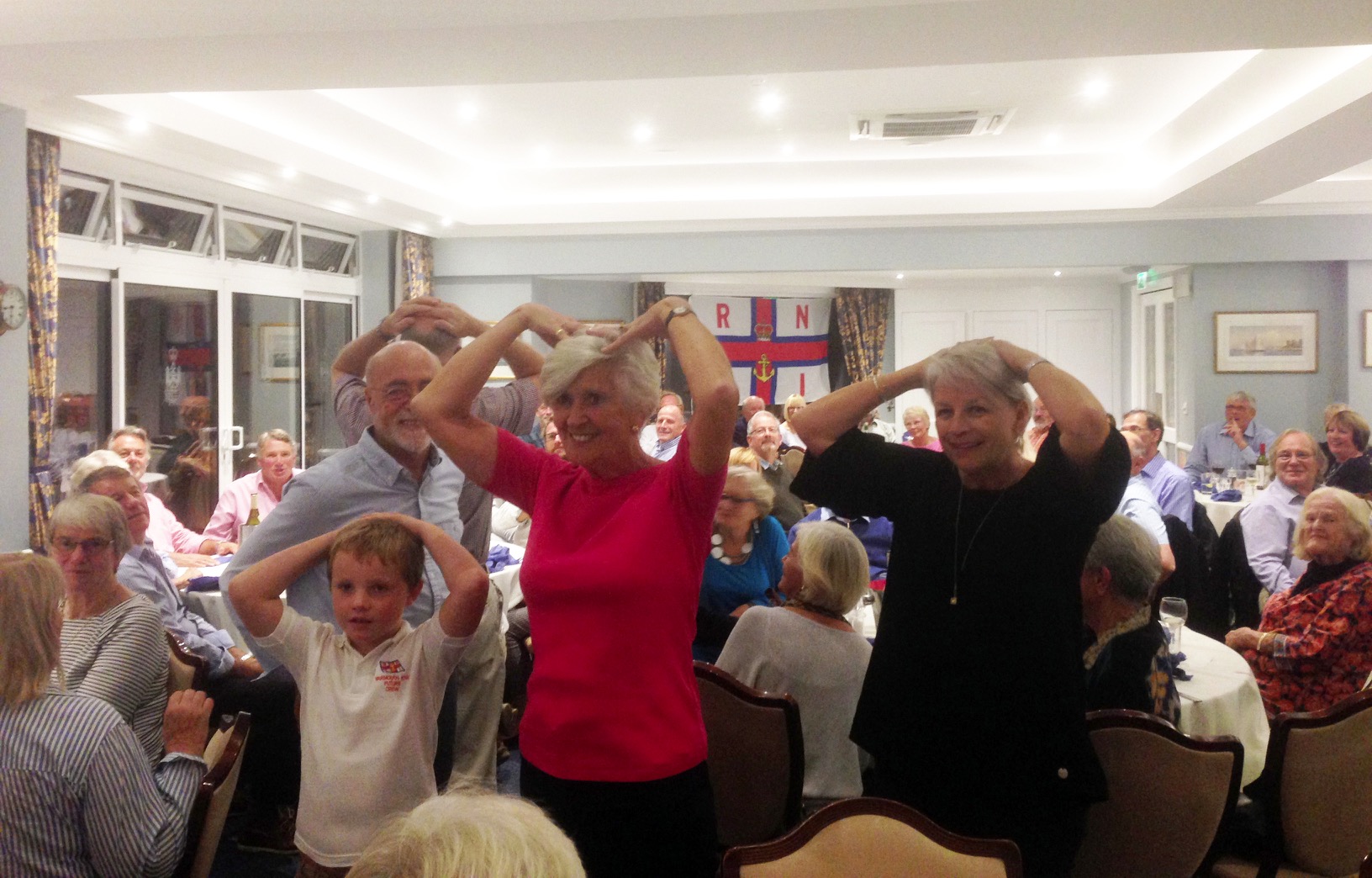 Oktoberfest
The Club's first Oktoberfest was held on Friday 12th October and was a resounding success with over 50 attendees. German beers were on offer and our chefs outdid themselves with homemade pretzels, schnitzel, spätzle, sauerkraut and an indulgent Sachertorte. Many of the attendees also embraced the Bavarian theme wholeheartedly in lederhosen and dirndls!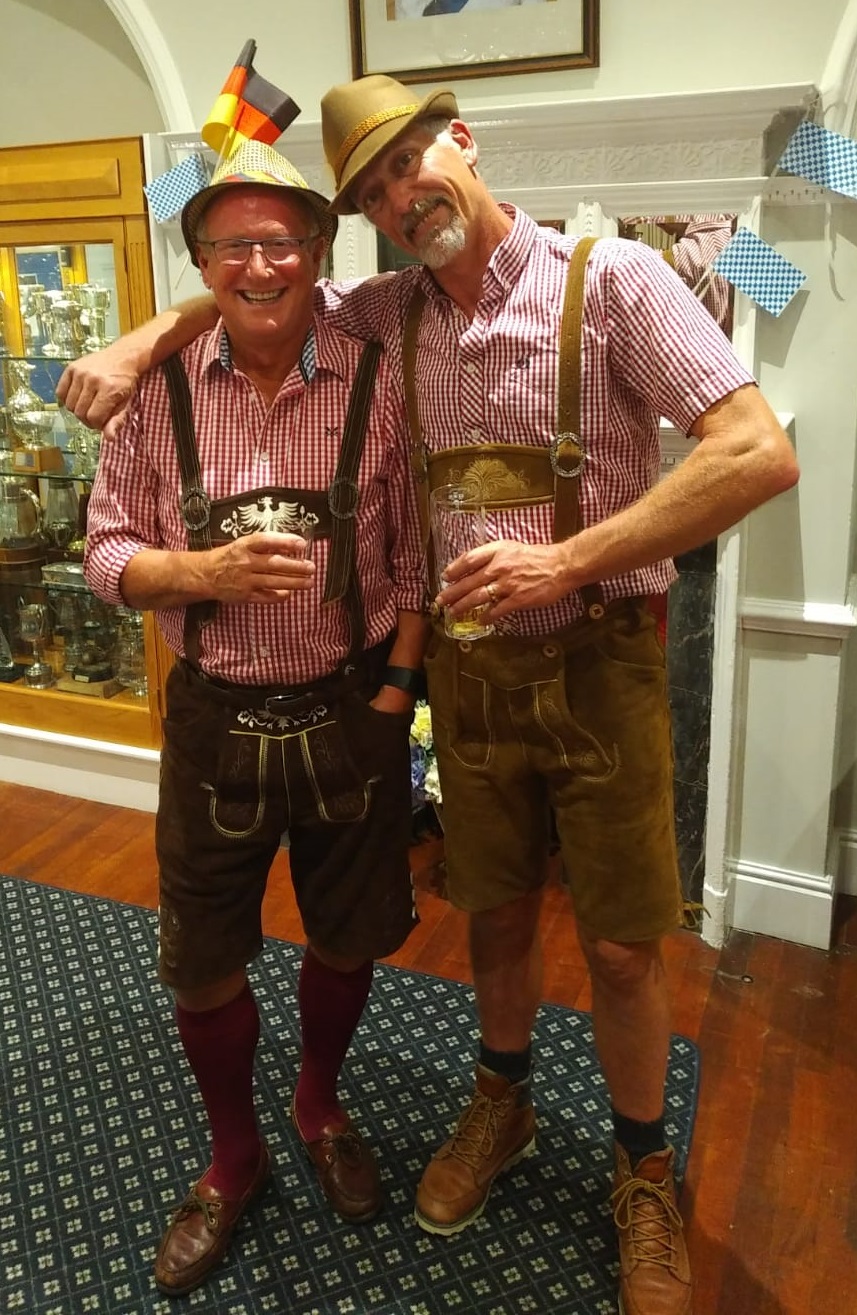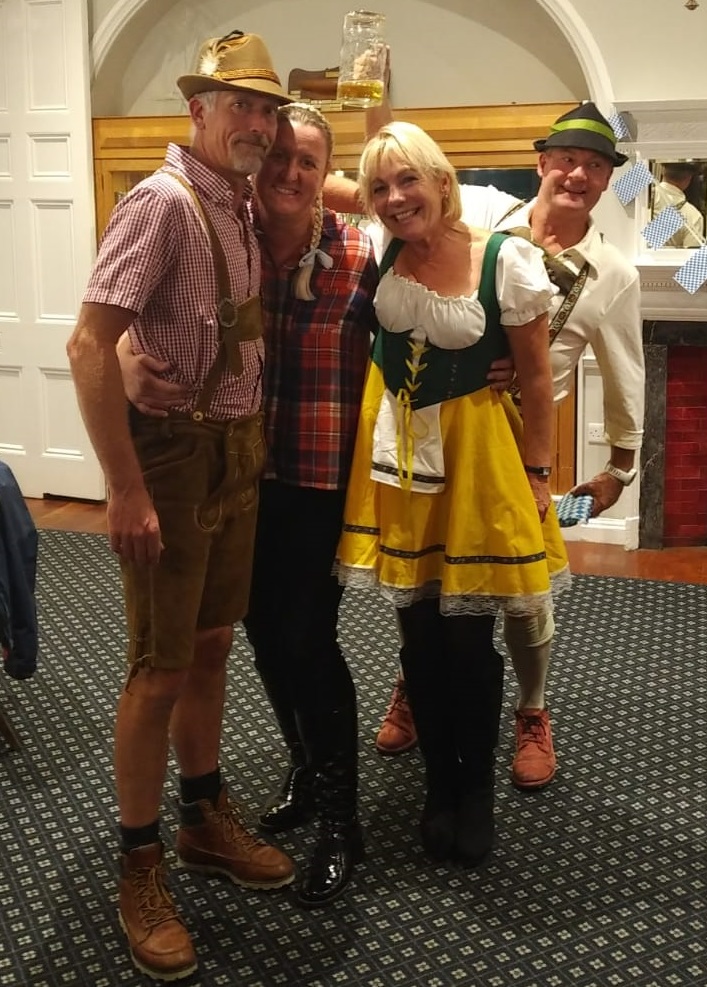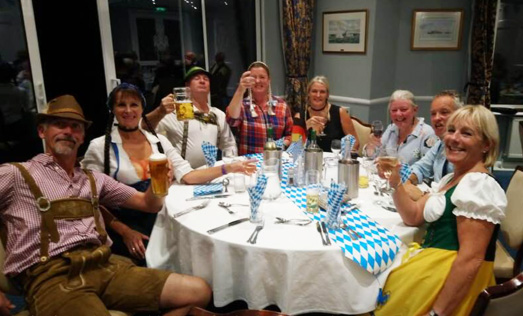 Interclub Clay Pigeon Shoot
Congratulations to the sharp shooting team from the Royal Solent who recently competed against three other yacht clubs in an Interclub Clay Pigeon shoot and won, retaining the Southern Bowl which we had previously won in 2011.
Thank you to member Martyn Collinson for organising this event, which the Club hosted this year. To read Martyn's full report, please click here.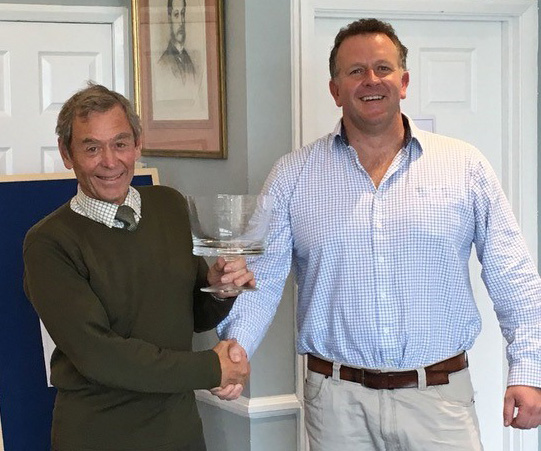 Ben Campbell accepting the Southern Bowl for the Royal Solent team
Forthcoming Events
The following forthcoming events may now be booked online or via the Front Office or foyer:
Commodore's Trafalgar Dinner, 27th October – View more info
Family Fireworks Supper, 5th November – View more info
Opera Night, 10th November – View more info
Lunch with the Vice Commodore, 15th November (booking not required)
End of Season Cruising Lunch, 20th November – View more info
Save the Date
Wine Society, 22nd November
Laying Up Dinner, 24th November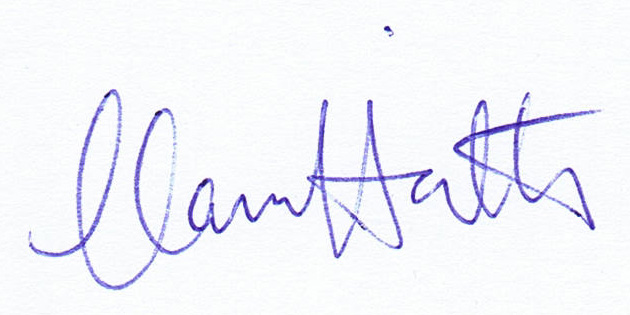 Claire Hallett
Secretary