Friday 16th July - Sunday 18th July 2021
Sponsored by Champagne Taittinger
in association with River Yar Boatyard, Wight Marine and Edelweiss & Gurgl
---
Glorious conditions, but tricky breeze at the 2021 Taittinger Royal Solent Yacht Club Regatta
By Oliver Dewar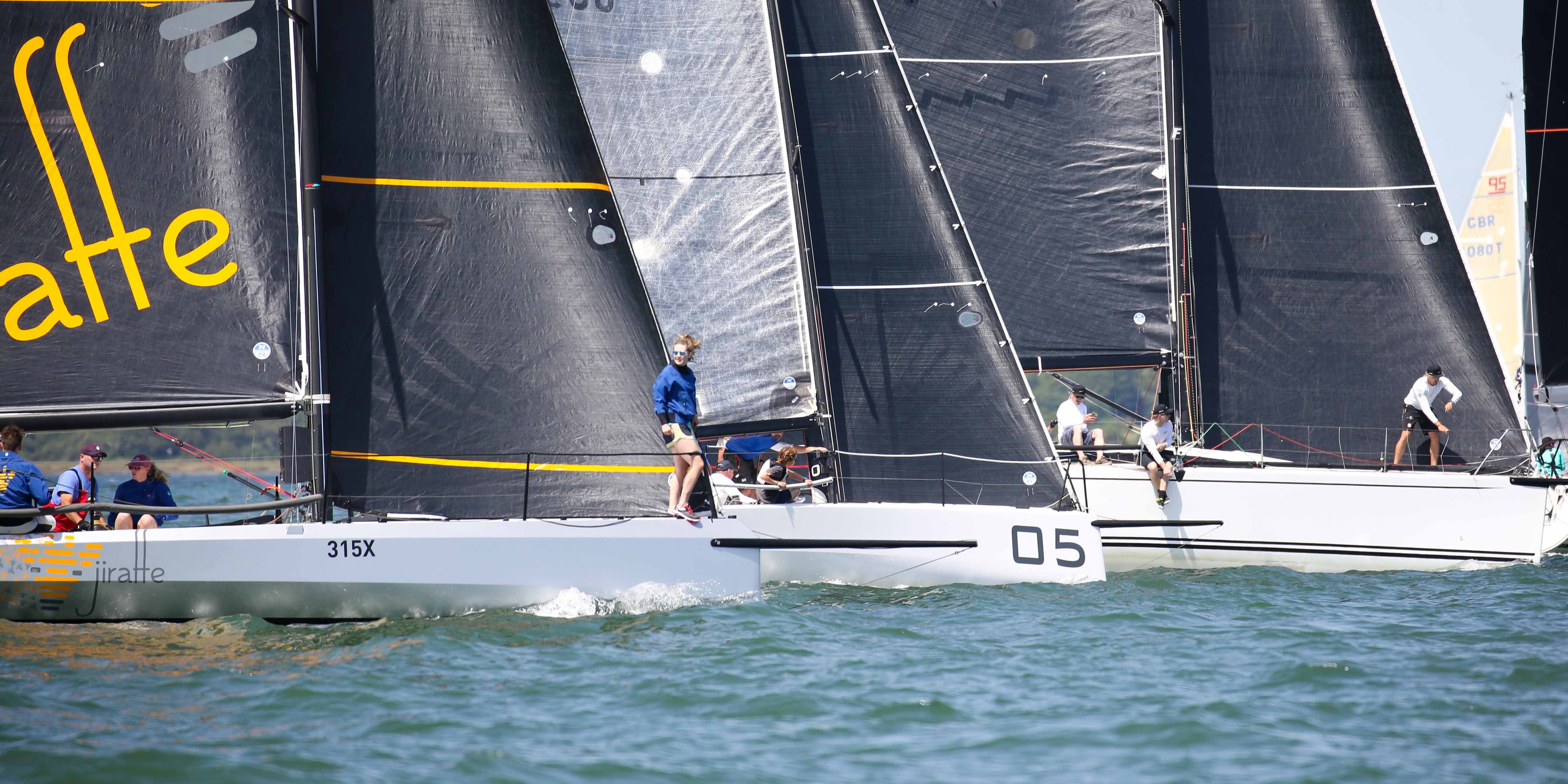 © Jake Sugden
Following a year's absence from the racing calendar, the 2021 Taittinger Royal Solent Yacht Club Regatta, held in Yarmouth, Isle of Wight, drew 208 boats to the Western Solent for racing over the weekend of Friday 16th - Sunday 18th July. A remarkable number of competitors considering the stripped-back schedule of the regatta's social events and just short of the record entry number of 214 boats at the 2019 Regatta.

Lead sponsor, Taittinger Champagne, was joined this year by local Yarmouth businesses the River Yar Boatyard and Wight Marine in the role of supporting sponsors. The Royal Solent Yacht Club raced two fleets - Black Group numbering 90 entries and White Group weighing in with 118 entries - with two races completed on Saturday in roulette-wind conditions and all racing abandoned on Sunday as the Solent transformed into a ripple-free, tidal pool.

Saturday started in sparkling conditions with a weak NE wind and one race was completed in these light and variable conditions. In a bold move, the event's Race Committee postponed racing further until the predicted sea breeze filled in. This took an agonising length of time but, eventually, by approximately 1600hrs, there was a decent and steady breeze from the SW. This enabled racing in all classes to be completed.

Making best use of the now-steady SW wind, Sailplane, capitalised on their second place in the first race, winning the second race comfortably and making them IRC1 winners. In the J111s, Tony Mack in McFly had two 1st places, and in IRC2, Jooped managed two 1st places. New to the Solent scene, the Cape 31s made their first appearance at the regatta with five entries; sadly the rest of the fleet was stuck in Cape Town. However, Russell Peters in Squirt achieved two 1st places.
Meanwhile, in White Group, Simon and Jemma Osgood of the Royal Thames Yacht Club had a fight on their hands with their Folkboat So!. "I think this is the first time we've sailed back in the UK in a regatta, so understanding tides again is a bit of a culture shock," Simon commented at the regatta prize-giving. "But we have reasonable local knowledge and I'm just glad we got two races in on Saturday. I think the hardest job was done by the Race Committee making the calls on postponing and all credit to the Club's organisation for putting the event on," he added.

"We sailed the best we could," continued Osgood of the team's 2-1 score in the 23-boat Folkboat fleet. "It was very tight with Claire Locke on The Otter who pushed us really hard. Fortunately, our third crew member is Jamie Lee and we've sailed together for twenty years, so we tend to understand each other after all these years," joked Osgood.

At the 2017 Taittinger Royal Solent Yacht Club Regatta, Nick Bradley and his crew on Contessa 32 Merak II won the event overall and the local sailor was back on peak form winning the 11-boat Contessa class with a 2-1 scorecard. "It was challenging as the breeze didn't fill in for a couple of hours on Saturday, so we had a bit of waiting around, but the Race Officers did a spectacular job and got two races in," said Bradley. Racing with his son on the foredeck and a regular crew onboard, the team worked seamlessly: "We've been sailing together for twenty years and have just about got the hang of it now," he explains. "Weirdly, they all look the same as they did twenty years ago!"

As veterans of the Taittinger Royal Solent Yacht Club Regatta, the Merak II crew missed the hectic social element of the regatta that was heavily trimmed-back this year due to Covid restrictions. "We missed the Taittinger Reception on Friday and the epic Towers Party and it's frustrating the restrictions will now lift so soon after," says Bradley. "But there's next year and we're not going to miss it!"
The regatta's slimmed-down social element was of little concern for Jacqueline Tooes of Nik Atkinson's NHC A entry from the Royal Northumberland Yacht Club, Caveman, although the lack of wind was frustrating. "There really wasn't enough wind for us and the races were a bit short," commented Tooes who, nevertheless, came third in the 19-boat fleet with a 3-3 score. Racing with seven crew and staying onboard the Elan 40 presented no entertainment problems. "We had a lot of crew with us who are new to sailing, so this was a great introduction and we always do a proper social side onboard," she added. "We always keep a well-stocked fridge!"

With flags limp on the Royal Solent Yacht Club's flagstaff on Sunday morning, racing was again postponed with many yachts from both Black and White Groups waiting in a static mass of bare poles in Bouldnor Bay and under Cranmore Cliffs east of Yarmouth. At 11.30, flags 'N' and 'A' made an unwelcome appearance, cannon signals were made, and an apologetic VHF announcement confirmed that further racing at the 2021 Taittinger Royal Solent Yacht Club Regatta had been abandoned.

Most of the Black Group competitors returned to the event's Prize Giving in the glorious setting on the lawn of the RSYC Clubhouse. One of two new prizes this year, was a 7-night stay in the 1889 panorama suite of Austria's luxury Edelweiss & Gurgl hotel. The lucky winner of this very special prize, drawn from all the class winners, was Rob Bottomley of the Royal Southern Yacht Club, first placed boat in IRC1 with his Mills 41 boat Sailplane. The second new prize was a Honda 2.3hp outboard engine, very kindly donated by supporting sponsors Wight Marine, which was drawn from all the boats entered and won by Robin Leather of the Sonata Sonic.

The Regatta's overall winners, Chris and Hannah Neve of the Royal Lymington Yacht Club with J80 No Regrets, were the proud winners of a Jeroboam of Taittinger Champagne. They found the conditions on the Solent challenging, but a distinct bonus. "It was a tough weekend and the weather helped us," Hannah admitted. "We were up against 25-30ft racer-cruisers in our class and in many conditions, we wouldn't have a hope," she explained. "But we were nippier than they were and could tack further inshore than the bigger boats and get out of the tide, although we had to work a lot harder!" The hard labour on No Regrets produced a 1-1 scorecard in the 19-boat NHC A class.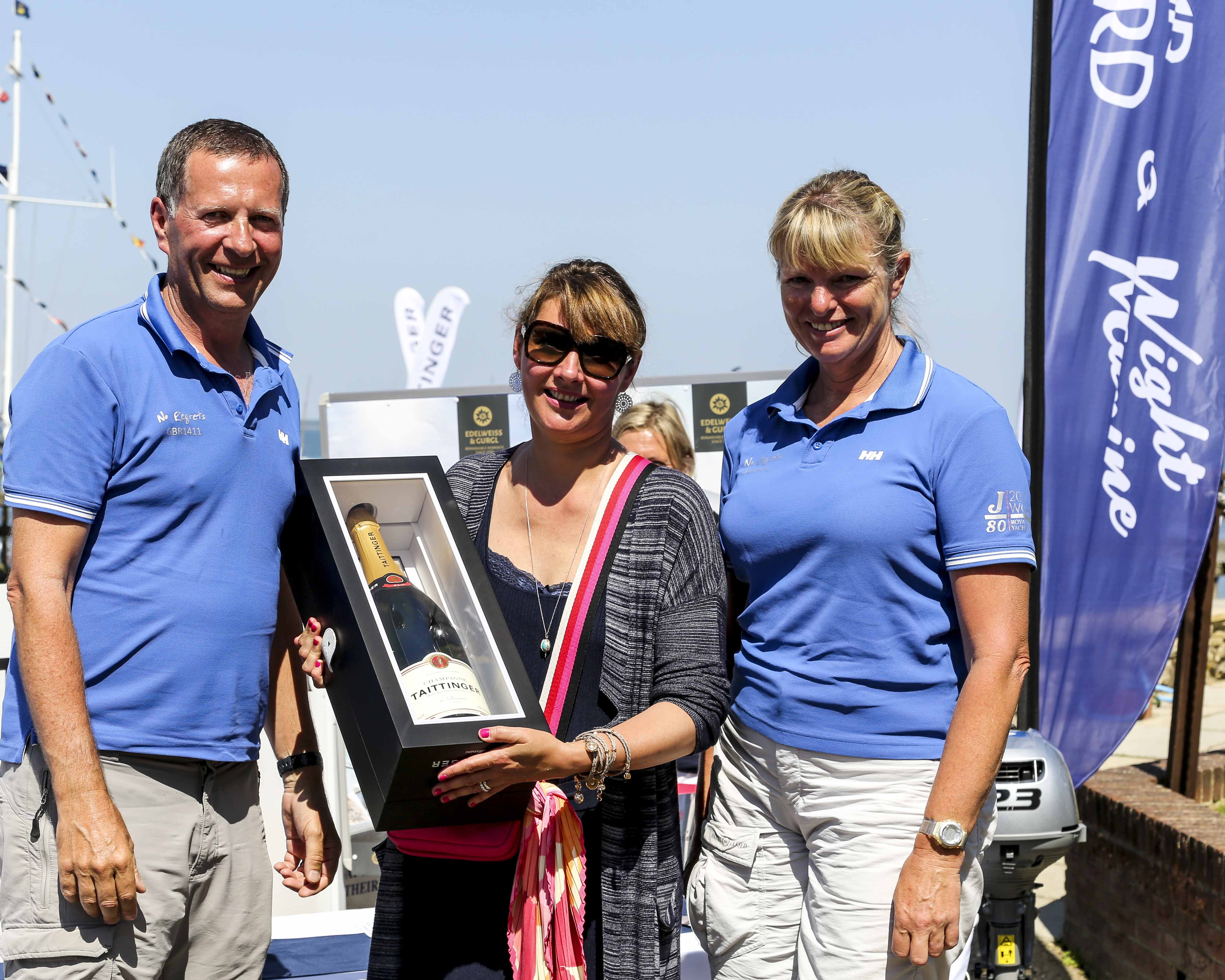 Overall Winners No Regrets, © Jake Sugden
As guests and competitors enjoyed the late-afternoon sun following the prize-giving, the Royal Solent Yacht Club's Commodore, Anne Kyle, reflected on the regatta: "Very happy and extremely relieved," she confessed. "In many ways, it's probably the most challenging Taittinger Regatta that we've had to run. Everyday there's been a new challenge to face, but we've got round everything and adapted quickly to every obstacle appearing in front of us. The whole club has pulled together with 90 of our members stepping up to volunteer help and the Club's staff has been amazing and totally tireless. Just to have held the event is quite something. It would have been so easy to cancel it for yet another year, but we were determined not to. As always, it's the competitors who create such a wonderful regatta and it is to them that the Club is really grateful."

Next year's Champagne Taittinger RSYC Regatta will run from Friday 22nd - Sunday 24th July 2022.

To view complete 2021 Taittinger RSYC Regatta results and photos, please click here.
To view and order prints of all the 2021 regatta photos taken by Jake Sugden , please click here.
For all media or competitor enquiries, please contact Royal Solent Yacht Club, Yarmouth, Isle of Wight PO41 0NS
Tel: 01983 760256
Fax: 01983 761172
Email:sailing@royalsolent.org