Friday 22nd July - Sunday 24th July 2022
Sponsored by Champagne Taittinger
in association with River Yar Boatyard, Wight Marine and Edelweiss & Gurgl
---

The Taittinger Champagne Reception, by Jake Sugden
Outstanding conditions and fierce competition at the 2022 Taittinger Royal Solent Yacht Club Regatta
By Oliver Dewar, 7th July 2022
(All images with this email are rights- and royalty-free. For Hi-Res images, please contact the RSYC)
The 14th Taittinger Royal Solent Yacht Club Regatta held last weekend (Friday 22 – Sunday 24 July) and based in Yarmouth, Isle of Wight, opened with its lively Champagne Reception and delivered a stunning sailing event in racing conditions that would be hard to improve with 190 competing boats filling the Western Solent during the South Coast's premier yacht club regatta.
With a solid south-westerly on Saturday morning, sending White Group to a start line on the Mainland shore gave the fleet a brisk start and a close inspection of Hurst Castle before the course took the boats back towards the Island shore. Meanwhile, Black Group raced mid-Solent and off the Mainland shore with breeze building from eight-11 knots as the fleet headed west on a beat with the full ebb tide underneath them.
Tony Mack is a regular, highly-successful Taittinger Royal Solent Yacht Club Regatta entry with his Royal Southern Yacht Club-based J111 McFly. Mack's 1-1-1 scorecard over the weekend's three races at this year's regatta wasn't easily won: "There was one other particular boat that was all over us," he explained at the prize giving on the Royal Solent's waterfront lawn on Sunday afternoon. "We got a bit of weed round the rudder and they were 'BANG', right at us."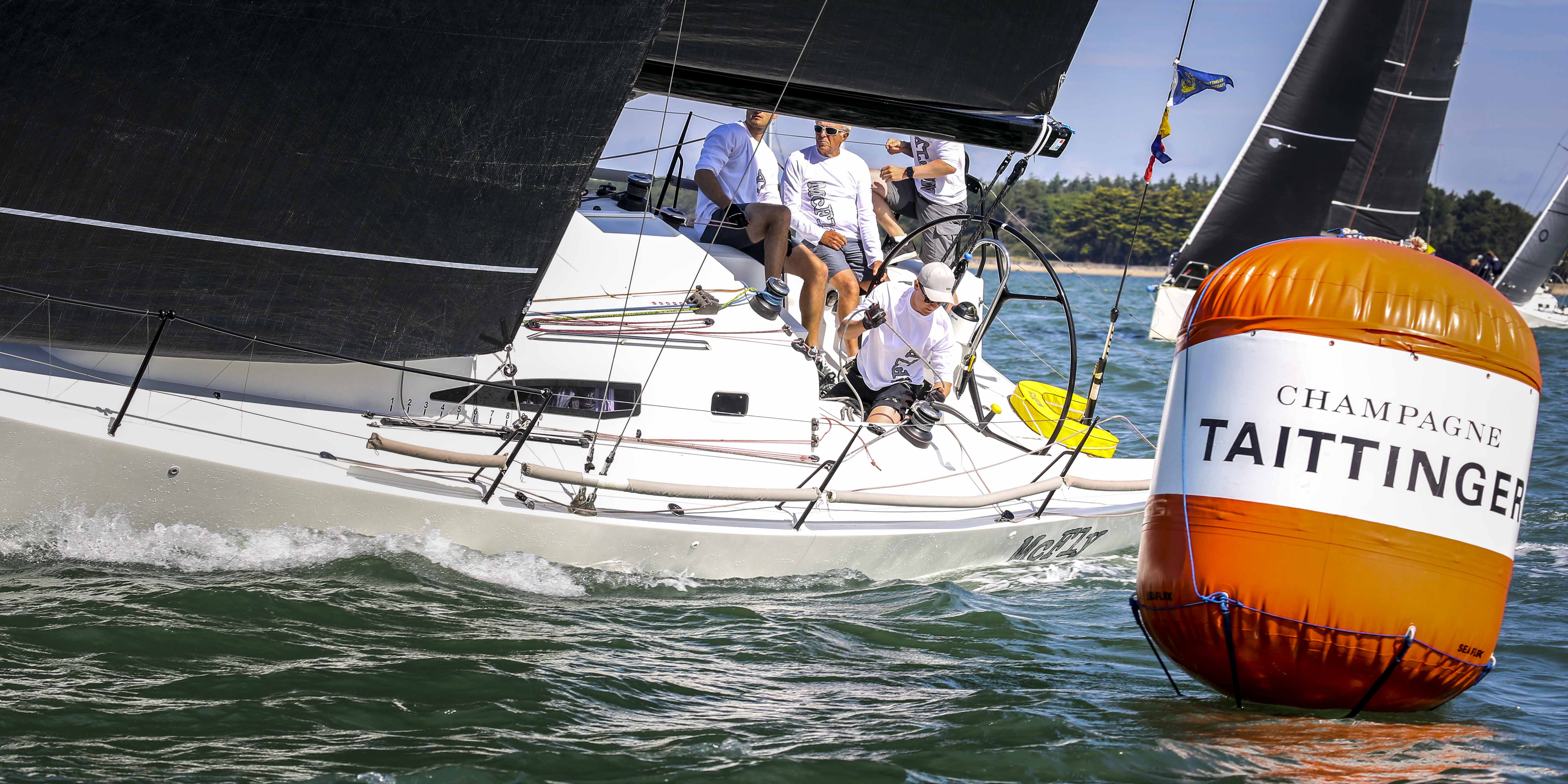 'McFly', by Jake Sugden
The team's on-the-water nemesis suffered a broken backstay and – to some extent – pressure on McFly was reduced. "The slightest thing and it's all over," admits Tony Mack of the level of competition within the regatta's J109 & J111 class. Despite the pressure offshore, Mack and his team fully enjoyed the onshore, social arrangements. "Along with the BVI, this is the nicest regatta we do," explains Mack. "It's terribly friendly, the weather was glorious, there are always loads of boats and we made it to the Towers Party which gets better every year," he continues. "The whole event and the Towers Party is great for younger crew." This year, the Towers Party entertainment included a guest appearance by John Illsley of Dire Straits; a strong supporter of the party's charity for 2022, Cure Parkinson's. "There was one new crew member, a South African, and he's completely mad about Dire Straits; he just couldn't believe who was playing at the regatta party!"
The tide turned to flood and the breeze built from 11-17 knots remaining south-westerly for Saturday's second race as a light cover of cloud funnelled up the Needles Channel with White Group starting again mid-Solent. In White Group's X One Design division, Xcitation scored 5-1-1 over the weekend and won the 31-strong XOD division overall. "I've been sailing with one of my crew, Mike, for 46 years, but it's the first time we've sailed out of Yarmouth and it's been absolutely brilliant," he confirms. "If it's like this every year, we'll be back," promises Yeoman. In common with the majority of the regatta's competitors, the social side of the weekend was of supreme importance for the crew of Xcitation: "We partied ourselves to a standstill," says Yeoman. "We were at the Towers, we were at the club, everywhere, all over the place!"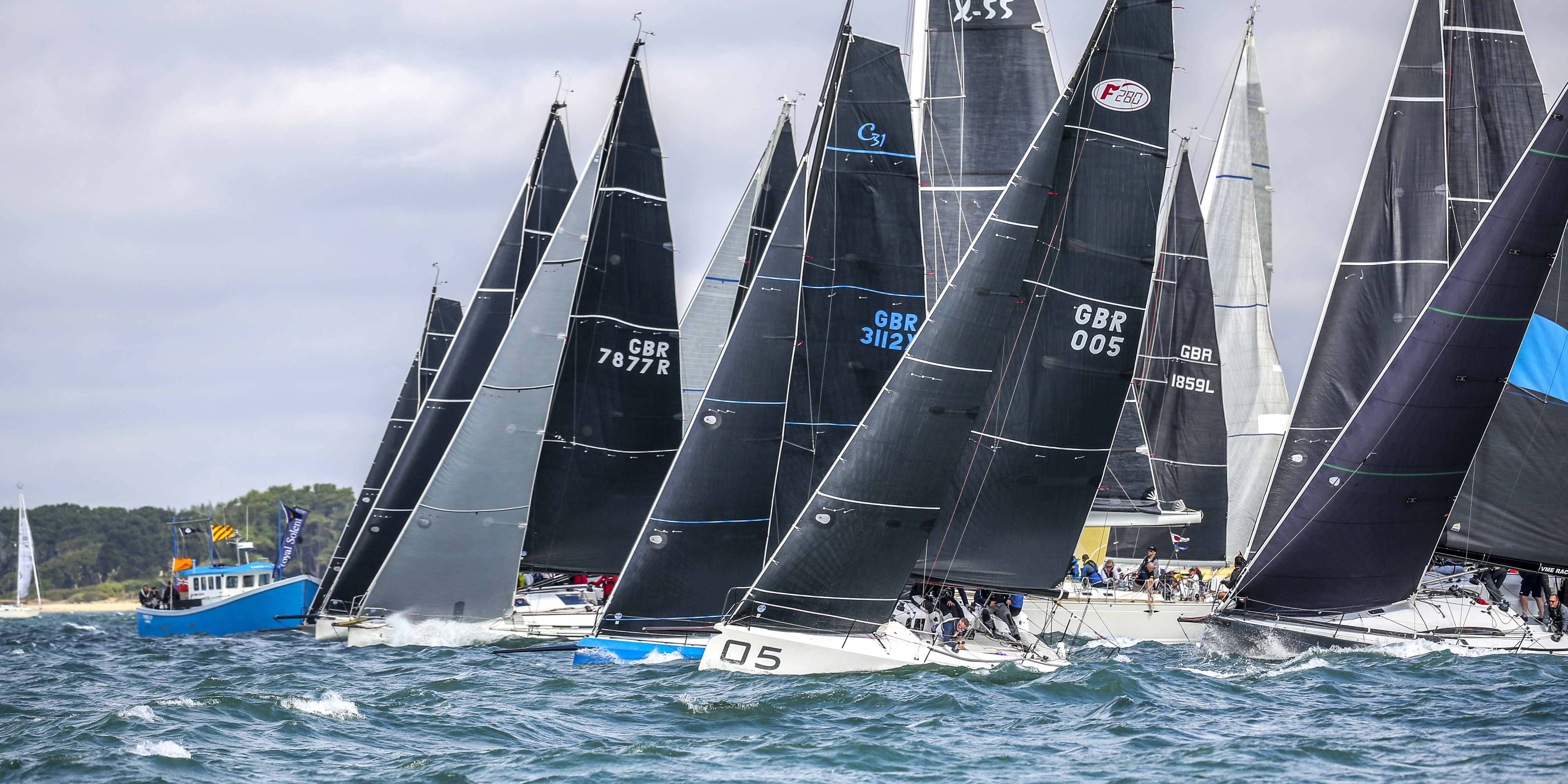 Saturday's Champagne Racing, by Jake Sugden
For Sunday's single race, the south-westerly built to around 20 knots with the full ebb tide producing muscular conditions mid-Solent; an environment that proved ideal for the regatta's overall winner Andy Roberts of the Royal Lymington Yacht Club with J105 Jin Tonic. "Sailing is one of the most complex team sports going and our team this year was just superb," he explained in a frank conversation shortly after finishing the third race of the event. "Every manoeuvre went like a dream and we were making so much on mark roundings it was almost embarrassing." Roberts took three bullets in the 13-strong IRC2 fleet sailing Jin Tonic with seven-up. "They all worked hard and did really well," he says, while his personal highlight of the regatta arrived shortly after the final race: "One of the top boats in our class came up and applauded us and said 'well done', and that means more to me than any trophy," he admits. "To get an accolade from your own comrades in arms was just really something."
"Lovely yachting, lovely Race Officer-ing," confirmed Roberts as one of his crew walked past cradling a Jeroboam of Champagne Taittinger – the prize for the regatta's overall winner. Earlier this year, Jin Tonic won the 74-strong IRC2 group in the Round the Island Race and the crew will be celebrating a very successful sailing season at a team barbeque this Friday. "Now I don't need to buy any booze!" laughed Roberts, eyeing the enormous bottle.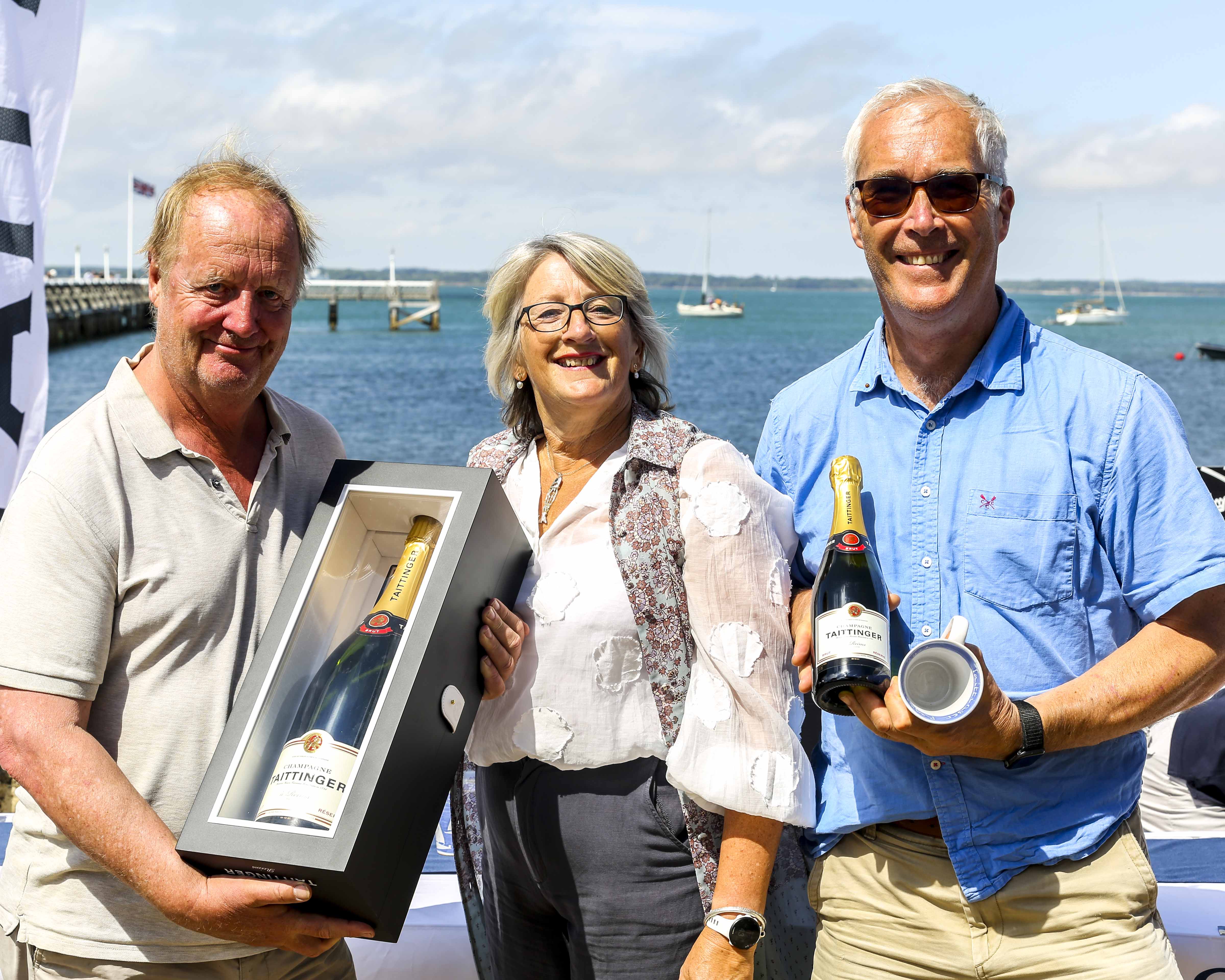 Overall Winners 'Jin Tonic', by Jake Sugden
Although the event's trophies and Champagne Taittinger prizes had been claimed, awards from the regatta's supporting sponsors were still up for grabs with nail-biting prize draws for a seven-night stay in the 1889 panorama suite of Austria's luxury Edelweiss & Gurgl Hotel won by No Regrets and a Honda 2.3hp outboard engine donated by supporting sponsors Wight Marine going to Hot Rats.
The 2023 Taittinger Royal Solent Yacht Club Regatta is scheduled for 14-16 July and Champagne Taittinger; the RSYC with supporting sponsors River Yar Boatyard & Wight Marine and the Edelweiss & Gurgl Hotel look forward to seeing you for another unforgettable regatta.
"The 2022 Taittinger RSYC Regatta was undoubtedly a great success and enjoyed by all, both on and off the water," summarised the RSYC's Commodore, Martyn Collinson. "Full credit for this must go to the sponsors, Regatta Committee, volunteers and staff for the huge amount of time and effort that went into making this year's regatta quite possibly the best yet," he adds. "Our sincere thanks to all who took part – we look forward to welcoming you back to the Royal Solent for next year's regatta."
Find the complete list of results for the 2022 Taittinger Royal Solent Yacht Club Regatta at HalSail Results
View photos of the 2022 Taittinger Royal Solent Yacht Club Regatta at Photo Gallery (royalsolent.org)
For all media or competitor enquiries, please contact Royal Solent Yacht Club, Yarmouth, Isle of Wight PO41 0NS
Tel: 01983 760256
Email: office@royalsolent.org