Rush of early entries for the Taittinger Royal Solent Yacht Club Regatta 2023
By Oliver Dewar, 2nd May 2023
Last year, 190 boats raced in the Western Solent over the weekend of the Taittinger Royal Solent Yacht Club Regatta, based in Yarmouth, Isle of Wight. Just two weeks ago, registration opened for this year's event, running from Friday 14th July to Sunday 16th July, and already 114 teams have entered the regatta, taking advantage of the event's substantial, early bird discount available until 29th May.
The successful format for the regatta, combining racing with a busy onshore social schedule, has been further improved for 2023. On the water, all boats will have a minimum of two races on Saturday and a single race on Sunday with classes representing an historic timeline of yachting evolution from X One Design, Yarmouth One Design and IRC Classic Cruisers and IRC Swan, through to modern IRC racing divisions.

Racing during last year's Taittinger RSYC Regatta, photo by Jake Sugden
On shore, the regatta's broad range of entertainment has new features. Katie Davies, Taittinger RSYC Regatta Chair, explains: 'The regatta is of course not only about the racing, but about great company and lots of fun off the water too.' As usual the regatta opens with the Champagne Taittinger Reception on the RSYC's waterfront lawn. 'We hope to see as many of you as possible partaking in a glass or two of champagne' says Davies.
While the Royal Solent Yacht Club caters for crews, family members and supporters throughout the day from pre-race breakfast to supper, there is much more on offer: 'New for Saturday afternoon, live music will be playing at the RSYC,' says Katie Davies. 'There'll also be a pop-up Gin Bar and a Champagne Bar as well as hot snacks available for all crews to refuel after a busy day on the water.'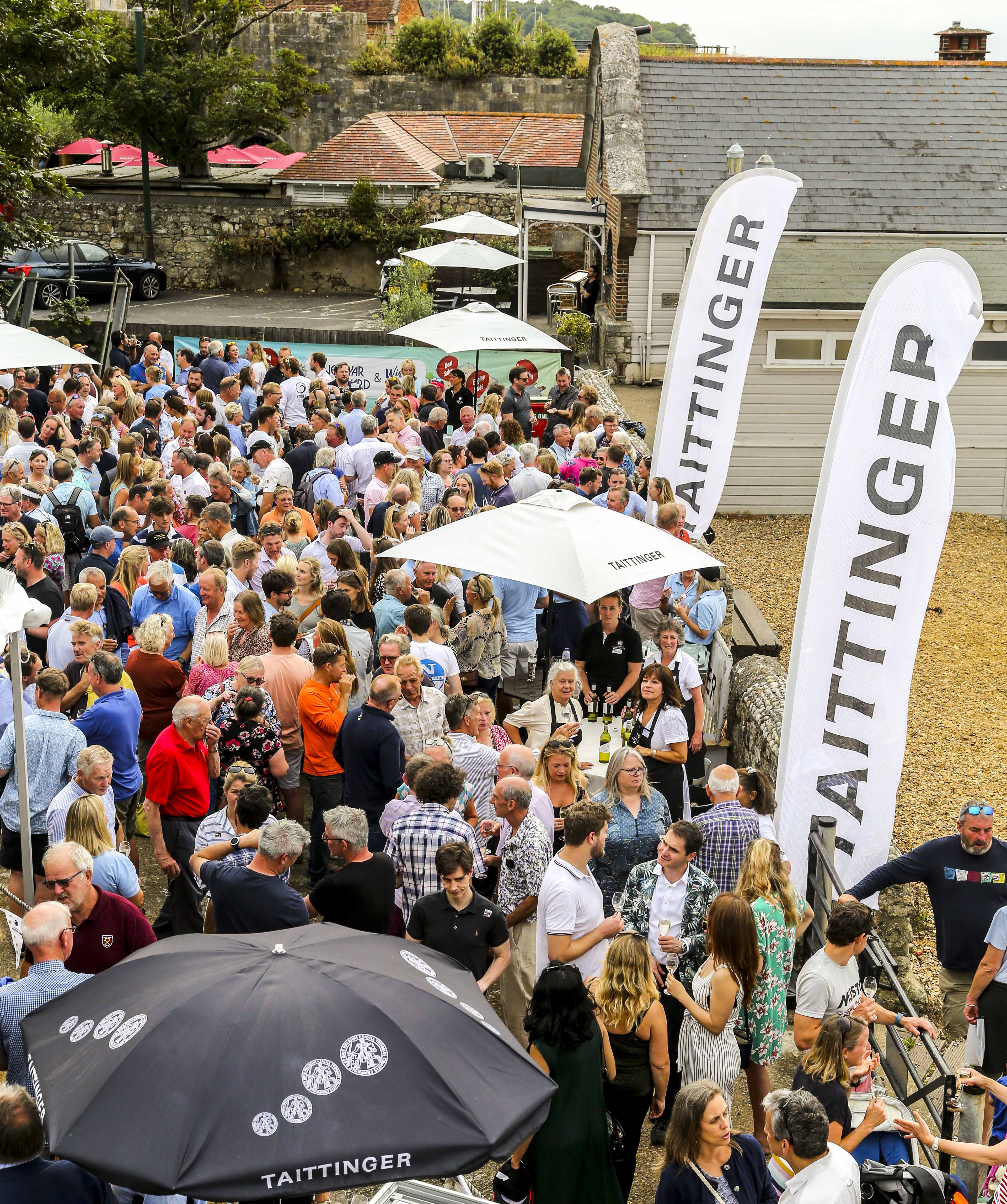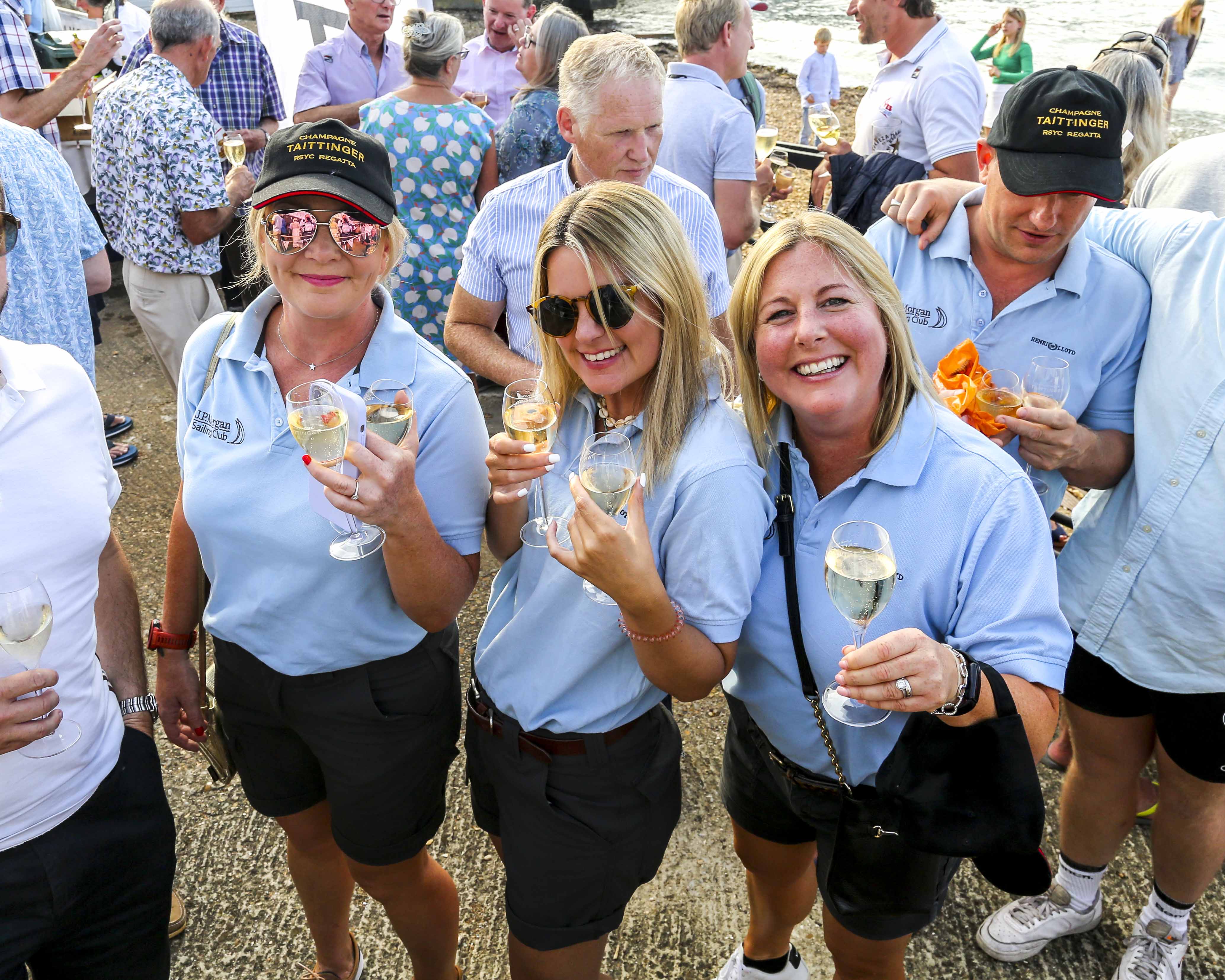 Socialising at last year's Taittnger RSYC Regatta Champagne Reception, photos by Jake Sugden

For many, the regatta's social highlight is the Saturday night event held in the grounds of a landmark, waterfront property adjacent to the RSYC. 'The legendary Towers Party will provide live music, dancing, a spectacular firework display and food and bars,' Davies continues. 'An evening not to be missed!' Competitors can purchase Towers Party tickets online. Tickets will also be available to purchase in person from the Royal Solent Yacht Club front office from 15th May.
On Sunday afternoon following the final race, the regatta's focus is the prizegiving at the RSYC. Courtesy of the title sponsor, each class winner will receive a bottle of Champagne Taittinger with the overall regatta winner presented with a Champagne Taittinger Jeroboam.
The event's supporting sponsor, Edelweiss & Gurgl Hotel of Obergurgl, Austria, is, once again, supplying an outstanding prize. 'We have our popular prize draw for a week's stay for two at the luxurious Edelweiss & Gurgl Hotel,' confirms the Regatta Chair. 'The winner of each class will be entered into the draw with a chance of a fantastic week in Austria in the summer or winter,' explains Katie Davies.
A second prize draw will afford the opportunity to win a Honda outboard engine supplied by Taittinger Royal Solent Yacht Club Regatta supporting sponsors, Wight Marine and the River Yar Boatyard who are based in Yarmouth. But, be warned – competitors will have to be at the prize giving to win the prize draws!
In a new innovation for this year's regatta, a team from Southampton's Maritime Filming UK will be recording the regatta action both ashore and on the water with boat-to-boat and drone footage. The short film can be viewed online following the regatta weekend.
Champagne Taittinger, the Royal Solent Yacht Club and the town of Yarmouth are looking forward to welcoming returning competitors and new crews to what many herald as the South Coast's most popular yacht club regatta - here are just some of the fantastic reviews received after last year's event:
'Thanks to the RSYC team for such a brilliant weekend. This was the best racing we've had in years. Well done and see you next year.' Gareth Griffiths of Oui Fling
'Parties, racing food - everything ran perfectly. We won the social! Looking forward to next year.' Jeremy Swetenham of Jemmana
'Excellent race organisation. The club provided the usual warm welcome and the Taittinger was, of course, excellent. From the Taittinger Reception to another banging Towers Party this is truly one of the best festivals of yacht racing in the Solent.' Simon Perry of Jiraffe
'Very good courses. Scores don't matter as much, as usual, an incredible regatta. The highlight for our young crew was the Towers Party.' Ian Handley of Banter

Notice of Race for the 2023 Taittinger RSYC Regatta:
taittinger-notice-of-race-2023.pdf (royalsolent.org)
Online entry for the 2023 Taittinger RSYC Regatta:
Event Bookings (royalsolent.org)
For any competitor or media enquiries, please contact the RSYC:
RSYC office 01983 760256
sailing@royalsolent.org