Friday 22nd July - Sunday 24th July 2022
Sponsored by Champagne Taittinger
in association with River Yar Boatyard, Wight Marine and Edelweiss & Gurgl
---

Photo by Jake Sugden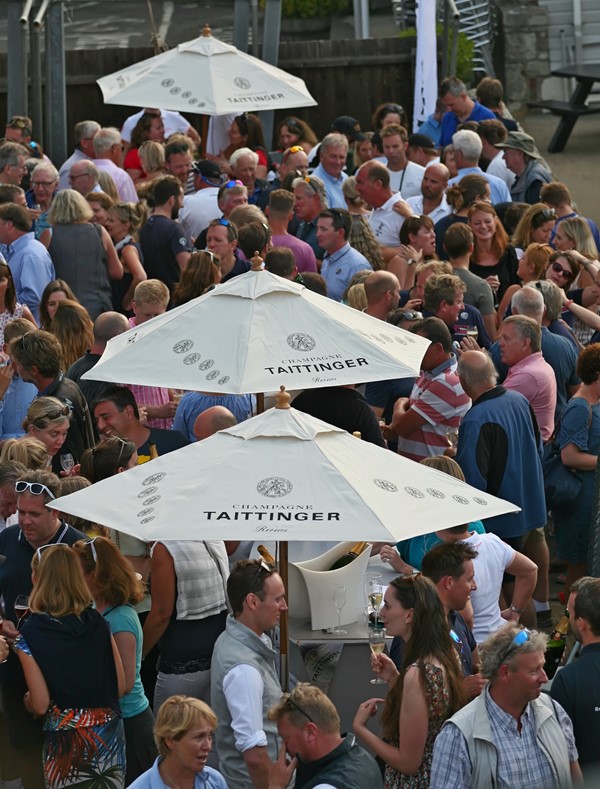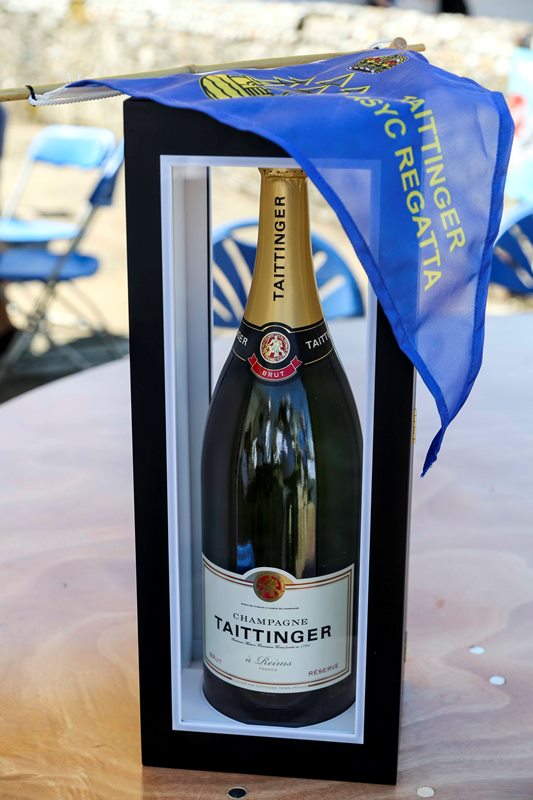 Photo by Keith Allso Photo by Jake Sugden
Excellent entry numbers for the 2022 Taittinger Royal Solent Yacht Club Regatta
By Oliver Dewar, 7th July 2022
(All images with this email are rights- and royalty-free. Please Credit: Kieth Allso & Jake Sugden. For Hi-Res images, please contact the RSYC).
As the clock counts down to the 2022 Taittinger Royal Solent Yacht Club Regatta (Friday 22nd – Sunday 24th July), entries continue to roll in for this popular South Coast regatta based in Yarmouth, Isle of Wight.
Currently, the regatta's fleet this year numbers 180 boats with the Nordic Folkboats supplying 24 entries and the X One Design fielding 26 boats, as these two classes dominate White Group. In the same group, the Sigmas have been given their own division for 2022 with seven boats entered so far and some intensely competitive racing expected from this modern classic fleet.
Meanwhile, in Black Group, the Taittinger RSYC Regatta is the third event in the SCRA IRC Championship and, new for 2022, the weekend's racing is part of the Swan Solent Series with the introduction of an IRC Swan class with five entries at present. Plus, there are a record 14 entries in the Black Group's Contessa 32 class this year.
Prospective entries have until midnight on 15th July to apply for a place in this fabulous regatta. The Sailing Instructions for this year's event are now available on the RSYC's website.
While the Taittinger RSYC Regatta is well known as a highly-social, family-friendly and entertaining event, the title sponsor, supporting sponsors and the RSYC are committed to evolving the vital racing infrastructure. Experienced Race Officer, Simon van der Byl, is once again joining the Black Group's Committee Boat this year, whilst International Judge John Doerr has accepted the position of Protest Chairman.
With the regatta's racing in good hands, the onshore team from Champagne Taittinger and the RSYC is determined to make the 2022 regatta unforgettable. The popular Champagne Taittinger Reception at the RSYC on Friday evening has been fully reinstated following last year's restrictions and will enable competitors to meet pre-regatta in the Club's waterfront grounds and clubhouse.
On Saturday evening, the not-to-be-missed Towers Party is back on the schedule at the landmark property next to the RSYC. The event takes place from 20.30 - 01.00 hours, with a range of bars, live music, a disco and other entertainment. Proceeds this year will go to the Cure Parkinson's Charity and tickets are available from the RSYC front office. Throughout the weekend, the RSYC clubhouse and grounds will be open to all the regatta's competitors, their families and guests.
Champagne Taittinger, the Royal Solent Yacht Club and the event's supporting sponsors, River Yar Boatyard, Wight Marine and the Edelweiss & Gurgl Hotel look forward to seeing you for a great weekend of racing and socialising.
Sailing Instructions for the 2022 Taittinger Royal Solent Yacht Club Regatta
sailing-instructions-taittinger-rsyc-2022-30th-jun.pdf (royalsolent.org)
Competitor list for the 2022 Taittinger Royal Solent Yacht Club Regatta
Taittinger Regatta Competitor List 2022 (royalsolent.org)
For all media or competitor enquiries, please contact the Royal Solent Yacht Club, Yarmouth, Isle of Wight PO41 0NS
Tel: 01983 760256
Email: office@royalsolent.org
---


Photos by Jake Sugden
A welcome return to a full programme for the 2022 Taittinger RSYC Regatta
By Oliver Dewar, 22nd April 2022
(All images with this email are rights- and royalty-free. Please Credit: Jake Sugden. For Hi-Res images, please contact the RSYC).
Online entry for the 2022 Taittinger Royal Solent Yacht Club Regatta (Friday 22 – Sunday 24 July) is now open and competitors are already rushing to apply for the early bird discount available until midnight 1st June. Last year, 208 boats entered this fun and friendly sailing event and interest in this year's Yarmouth-based regatta is already proving to be keen.

As one of the South Coast's most popular regattas, the Royal Solent and Champagne Taittinger are always looking to deliver the best event possible both ashore and afloat. This year sees the welcome return of the opening Champagne Reception and also the outstanding Towers Party on Saturday night.

The regatta's title sponsor, Champagne Taittinger, remains firmly embedded: 'We are delighted that the Royal Solent is able to host the 14th annual Taittinger Regatta this year, and in particular the Champagne Reception on Friday evening,' confirms Taittinger's Emily Reay. 'Everyone is looking forward to welcoming both new and returning boats to Yarmouth for a competitive and thrilling weekend of racing alongside the popular onshore events. May we have perfect conditions for sailing and for friends to raise a glass of Taittinger together.'

The significance of the Champagne Reception as a chance for all competitors to meet as they have done at previous regattas, resonates with the event's supporting sponsor, River Yar Boatyard & Wight Marine: 'Last year's regatta was a fantastic weekend,' says Jen Allen of this established, local marine business. 'We hope this year will be even better with more competition, more wind, and, of course, a welcome return of the Champagne Reception.'

While the shore-based social schedule is a time-tested, winning formula, the event's offshore activity continues to evolve. With over 200 boats competing in the regatta's traditionally inclusive fleet, entries are welcome from IRC; IRC Swan; IRC Classic Cruiser; Contessa 32; Folkboat; J's 24-70-80-104-105-109-111; P40; VX10; Sonata; Sigma 38; SB20, XOD & YOD.

This year, Simon Van der Byl has been recruited by Regatta CRO, Jeremy Willcock to join Black Group's Committee Boat where depth, tide and twitchy wind direction off the Mainland shore is a supreme challenge. Van der Byl has juggled national and regional race management alongside Cowes Week for many years and is a great asset to the regatta team.

Supporting the regatta race management team for a second year, innovative tech communications company aql is now part of the event's backbone. 'Our founding vision is to use technology to automate difficult or time consuming processes,' confirms Professor Adam Beaumont, the company's Chairman. 'Race declarations is one such area. We're very happy to support the Taittinger RSYC Regatta with our interactive SMS messaging service and look forward to working with them more in the future.'

Once again, the Taittinger RSYC Regatta will include a holiday prize of a stay at Austria's luxury Edelweiss & Gurgl Hotel. Last year, Rob Bottomley, skipper of Mills 41 Sailpane and overall winner of IRC 1, won the 7-night stay in the hotel's 1889 Panorama Suite. 'It was a fabulous hotel and a very original concept to win a holiday as a prize, it made a great change,' says Bottomley.

Michael Anfang of the Edelweiss & Gurgl Hotel neatly identifies the connection between powder and pointing: 'We are particularly pleased that we can support the regatta again. We are all united by the beauty of nature and mastering the challenges of sport, but also the enjoyment after a successful day and a good time with friends unites us.'

Champagne Taittinger, the Royal Solent Yacht Club and the event's supporters look forward to seeing you in July.


2022 Taittinger RSYC Regatta NOR taittinger-regatta-notice-of-race-2022.pdf (royalsolent.org)

2022 Taittinger RSYC Regatta online entry https://www.royalsolent.org/taittinger-rsyc-regatta/taittinger-rsyc-regatta-2022/

2022 Taittinger RSYC Regatta entries Taittinger Regatta Competitor List 2022 (royalsolent.org)
For all media or competitor enquiries, please contact Royal Solent Yacht Club, Yarmouth, Isle of Wight PO41 0NS
Tel: 01983 760256
Email: office@royalsolent.org