RSYC Book Club - Tulip Fever by Deborah Moggach
Wednesday 28 September 2022
The RSYC Book Club meets every 4 to 5 weeks. The next meeting will take place on Wednesday 28th September at 2.30 pm. The next book for discussion is Tulip Fever by Deborah Moggach. All members are welcome to join. Please see an introduction to the book below:
Tulip Fever by Deborah Moggach
A tale of art, beauty, lust, greed, deception and retribution -- set in a refined society ablaze with tulip fever. In 1630s Amsterdam, tulipomania has seized the populace. Everywhere men are seduced by the fantastic exotic flower. But for wealthy merchant Cornelis Sandvoort, it is his young and beautiful wife, Sophia, who stirs his soul. She is the prize he desires, the woman he hopes will bring him the joy that not even his considerable fortune can buy. Cornelis yearns for an heir, ………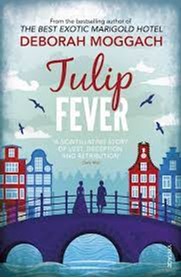 Any member interested in joining the group should contact Pat Dawson email pat@dpdawson.co.uk or phone (01983) 760655.